A quick whistle-stop visit to a British seaside town is a perfect way to blow away the cobwebs and having recently spent a weekend in Brixham, Devon I wanted to share some of my favourite spots to eat and drink. As a harbour town with a thriving fish market it's no surprise that there's Brixham fish, crab and shellfish almost everywhere. From little seafood stalls on the harbour front to the restaurants it's not hard to get fresh fish and Devonshire ice cream, wine and more from almost everywhere.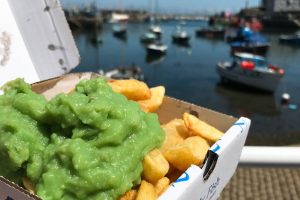 Simply Fish
Is it just me or is eating chips by the sea so much better than anywhere else? Maybe it's the peril that accompanies the enjoyment of the chips; at any moment an overly-confident seagull could swoop down and snatch that chip right off of your chip fork. Perhaps it's the smell of the salty sea air as you munch through the hot, crispy chips that you don't get anywhere else. Simply Fish are next to the harbour and there's normally a queue to get in, not surprisingly as their batter is crisp, chips are well cooked and not greasy and their mushy peas and curry sauce are delicious.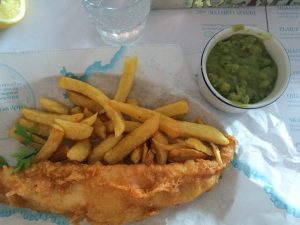 Rockfish
One of a few restaurants of the same name I have to say I've been to Rockfish many times. Despite them offering plenty of delicious menu options I just can't say no to their fish and chips; which come with unlimited chips! There are three types of tartare sauce to choose from (classic, seaweed or jalapeno) and the fish depends on the day's catch. With a real emphasis on Devon produce and serving sizes as generous as the views over the harbour it's a great place for lunch or dinner. They do have a takeaway too and you must try their pickled onion rings.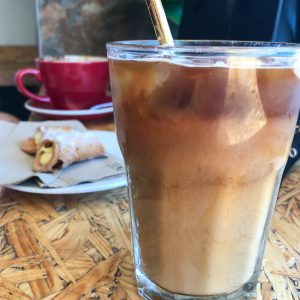 Port Espresso
I really like it in Port Espresso, it's a small coffee shop with an equally small menu but the emphasis is on proper, quality coffee and food. They make a cracking iced (and hot) coffee and it would be rude not to get a cannoli while you're in there. Other menu options include homemade granola, avocado on toast and some very squidgy looking brownies.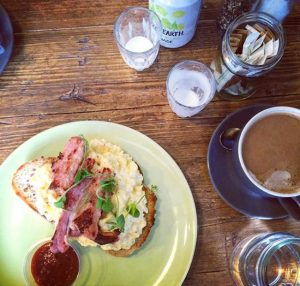 The Curious Kitchen
Home cured bacon? Yes please. The menu at The Curious Kitchen all sounds so tempting but I had to try the home cured bacon and homemade tomato ketchup. Quality here, again, is king and the coffee is great, the portions generous and just look at that bacon! There are plenty of veggie, vegan and gluten free options on the menu too.