From time to time I get a real craving for something sweet after dinner. I could go and raid the biscuit tin; I have bourbons in there presently and they would go down a treat. But actually, I want something a little healthier and that's where these mint, orange and raspberry ice lollies come in. They take moments to make and I can grab one from the freezer to cool down in this lovely summery weather we're having and at the same time satisfy my sweet tooth. I have been growing some mint in the garden beautifully named 'chocolate mint' so I used some of that, you can use whatever mint you can get your hands on.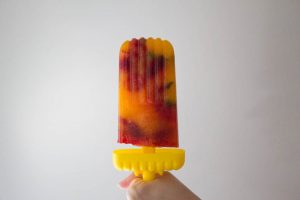 Ingredients
You will need (for 6 ice lollies):
2 handfuls frozen raspberries
Orange juice, preferably one with bits that's good quality
Few sprigs fresh mint, finely chopped
Method
Add the frozen raspberries to each of the lolly moulds. Sprinkle the mint between all the moulds too.
Top each lolly up with orange juice until almost at the top before adding the stick and popping in the freezer.
My lollies took about six hours to freeze solid.
You could definitely use fresh raspberries for this if you'd prefer. I liked using the frozen ones as the fruit gets stuck in the moulds meaning you have even distribution of raspberries throughout the lolly when it comes to eating them!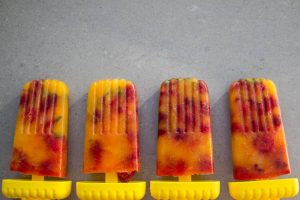 Other combinations of fruit, herbs and juice would be delicious. I'd like to try a strawberry, lemonade and mint combination and would really like to try one with blackcurrants too. The mint gives such a freshness to these lollies and it adds to the cooling too; I added a pretty generous helping so if you're also a mint lover than add as much as you like! These lollies aren't as sweet as ones you would buy; there's no sugar other than that already contained in the fruit and juice so they pack a good amount of sharpness making them really refreshing.