Apart from a weekend in Edinburgh I hadn't been to Scotland before. A few weeks ago we set off for a stay in central Scotland, overlooking a loch, naturally. The weather was exceptional for the whole week we were there; blue skies and sunshine every day! The views, sights, towns and villages were all fantastic but the thing that really stood out to me was the food. It seemed that whether you were in a little cafe or a restaurant the food was almost always brilliant. I wanted to share some of the food highlights in Scotland I found on our travels; there was a lot of cake and thorough quality testing.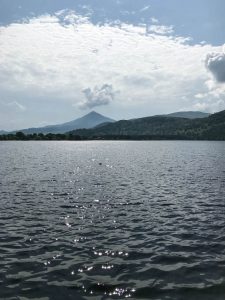 The Watermill Aberfeldy
We timed a trip to Aberfeldy perfectly; there was a brilliant market on in the town with fresh fruit, bread and cakes, beer, fish, meat and plenty of other local food and drink to stock up on. One thing which definitely needs a mention is the wonderful cinema in Aberfeldy; the films are written on a blackboard outside the cinema and they have a lovely little cafe inside. It is so charming.
We headed to The Watermill for some lunch. It's got three different levels: home wear and furniture upstairs, books on the middle level and then the cafe in the basement. The menu was full of different things I wanted to try but I went for a sandwich. I can't say no to a good sandwich. This one was a crusty seeded roll absolutely full of smoked chicken, homemade pesto and rocket served with a small beetroot cous cous salad and shredded veg with a delicious citrus dressing. Should you be passing, or staying, in Aberfeldy definitely stop here for lunch!
Deli Craft Fort William
The next day, after driving through stunning Glen Coe we went to Fort William. There were plenty of cafes, bars and restaurants to choose from but Deli Craft had a really good range of sandwiches, paninis, pizzas, quesadillas and all sorts that we couldn't resist. The cafe is set up as a takeaway but there are tables you can sit at to eat the food there.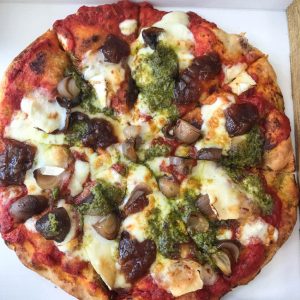 I had the goat's cheese pizza with balsamic pickled onions, caramelised onions and pesto. My Mum had the vegan quesadilla which looked great, Dad had the spicy lamb pizza (harissa lamb, rocket, pomegranate, mint yoghurt) and the OH had the pastrami, mustard and pickle panini. We all left pretty stuffed and it was really reasonably priced for the portions, freshly cooked food and quality.
Caoldair Coffee and Craft Shop Laggan
We stumbled upon this coffee and craft shop by complete accident, it was just down a side road on our way back to where we were staying. The blackboard outside announced that it served 'Yummy Things' and that sounded like an opportunity not to be missed. What a wonderful place. You can sit in the beautiful courtyard garden surrounded by flowers and enjoy your cup of tea and slice of cake then have a look round the small shop inside which is full of things made in Scotland.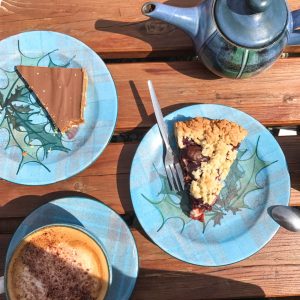 The cakes (you might be noticing a cake and sandwich trend by now) here all sounded so good I held up the queue a little bit while trying to make a choice. I decided on a spiced plum tart with a crumble topping and it was perfect with a cup of tea in the sunshine. I can also testify that the millionaire's shortbread was excellent too, from the little corners I managed to steal.
Dunalastair Hotel Kinloch Rannoch
Next we managed to combine the two essential staple foods in one: sandwiches and cakes. We had a fantastic afternoon tea at this hotel sitting on hugely comfortable velvet sofas and munching our way through sandwiches, warm scones, copious amounts of tea and coffee, cake, macarons and mini lemon tarts. The outdoor courtyard was bathed in sunshine so we finished our tea basking outside with some more drinks. If I'm up this way again I'd certainly look at staying at this handsome hotel.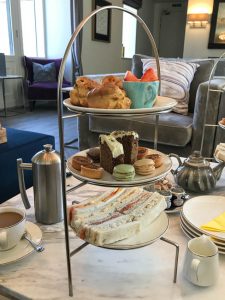 Caledonian Canal Centre Fort Augustus
Driving down the north side of Loch Ness means you will arrive at Fort Augustus at the southern end. It's a very sweet little town and the Caledonian Canal Centre is worth stopping in. Built right next to the canal and its locks separating Loch Ness and Loch Oich it's full of history about the area, and, you guessed it, a marvellous coffee shop. A quick cup of coffee and a Tunnock's caramel wafer was ideal afternoon sustenance.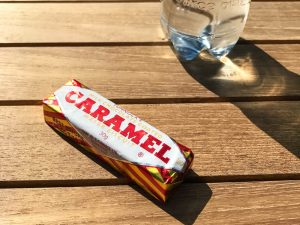 Fiddler's Pub Drumnadrochit
While I was in Scotland I really wanted to get my hands on some cullen skink. Of course we had to take a trip to Loch Ness and it was at a pub near Loch Ness that I managed to find a bowl of this delicious soup. It was so full of smoked haddock and the smoky flavour was so well balanced throughout the soup with soft potatoes, silky leeks and creamy broth.
House of Bruar Pitagowan
Would you believe that this next place has (almost) nothing to do with cake?! The House of Bruar is mind-bogglingly huge and definitely worth a stop. It's got everything: fish and chip shop, fresh fruit and veg with plants and flowers, ice creams, café and restaurant, a huge food hall and even clothes shops. Of course I was there for the food hall; it was immense.
Tea, coffee, cakes, biscuits, jams, honey, butchery, condiments, sauces, bread, cheese, smoked meat and fish, beers, wines, spirits, chocolate; the list goes on. So much choice and all of it so tempting. We made up a grazing dinner from here with different pies, smoked terrine, veg, dips, bread, cheese and all of it as local as it could be. To give you an idea of the scale of the shop they had one whole 'aisle' devoted entirely to different types of fruit cake. And there was me thinking there was only one kind.
Rannoch Cafe
This is no ordinary train station café. In fact, it is so extraordinary it's almost worth making the trip on the train just to stop here and visit. You might have a bit of a wait before your next train but it would be worth it. The station is actively used but so well-tended; fresh flowers in the hanging baskets and scrupulously clean inside and out. The café is right in the middle of the station with inside and outside seating on both sides stretching down the platform.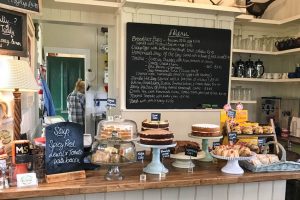 Next time you go to your local train station, just check the food on offer and see how it compares to Rannoch Station's offerings (this is just a few of them): dippy eggs with sourdough soldiers, homemade soup or freshly baked cakes. I couldn't pass up the opportunity to try the midge cake; a perfectly sharp lemon drizzle filled with poppy seeds (the midges). After filling up on food you can take one of the various walks from the train station, all provided on a little map you can take with you.
We certainly covered some ground while we were up in Scotland and found some real food highlights. I always like to find somewhere small and local to visit as they are always more interesting than the big places. With plenty of walking, cycling, various water related activities and even bungee jumping there's plenty to do to burn off all that cake.