You know when the nights start to get dark earlier, it's a bit colder than it was before and people start sneezing (not due to hayfever) that you just want to be on holiday? I have a significant desire to be on a beach from November to February; unfortunately it's not a practical option. So, to make the best of it I surround myself with fruit. The more tropical and bright the better but there's only so many pineapples one person can eat. I was delivered some beautiful green clementines with my recent veg box and they deserved to have a bit of a fuss made of them: a lovely bright green clementine fruit salad with a mint and vanilla syrup.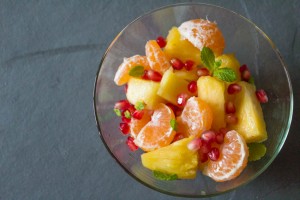 Ingredients
You will need (for one):
1 green clementine (orange clementines would do just fine)
A good handful of diced pineapple
A scattering of pomegranate seeds
2 sprigs of mint
½ tsp vanilla extract
75g sugar
150ml water
A few mint leaves to decorate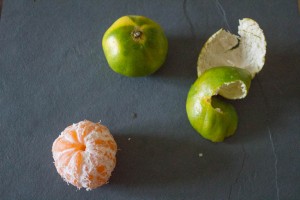 Method
Put the sugar and water together in a small pan with the vanilla extract. Heat gently and stir until the sugar has dissolved.
Bring the heat up on the pan so it bubbles lightly and the syrup can reduce. Add the mint leaves to the syrup when hot to infuse.
When syrupy, remove from the heat and leave to cool down. Once cool, remove the mint leaves.
Arrange the clementine, pineapple, pomegranate seeds and mint in a bowl and spoon over the syrup.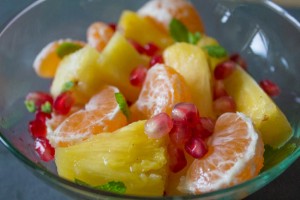 This does make slightly more syrup than you need for a little bowl of fruit salad but save it to use on your porridge in the morning; it's delicious. When you're feeling blue or have the sniffles something this bright, citrusy and vibrant can't fail to cheer you up. Even just a little bit. I was amazed how just a little drizzle of syrup transformed this from a normal bowl of mixed fruit into something completely different. The mint and vanilla were most welcome with the clementine, pineapple and pomegranate and I know this will become a staple for my lunches over winter.