I meal plan. Only the dinners mind you. I'd like to think I was organised enough to plan fantastic breakfasts and fabulous lunches but I'd much rather have longer in bed each morning than fuss around with an avocado and quickly grab something easy for lunch in the week. However, there are consequences to this nonchalant attitude of mine. What if disaster strikes? What if, as I enjoy my chicken sandwich for lunch I realise that chicken is on the meal plan for that night? It doesn't bear thinking about. So I don't; I have a very simple way round this predicament instead. Make lunches vegan, and if not vegan, vegetarian. Hello Carrot, Chickpea and Harissa Soup.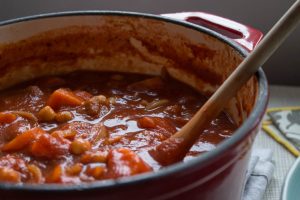 Ingredients
You will need (for four big bowls):
2 onions, peeled and sliced
3 carrots, peeled and chopped into large chunks
2 tbsp harissa paste
1 tin chickpeas, drained and rinsed
250ml vegetable stock
8 apricots, roughly chopped
700ml tomato passata
Oil for cooking
Salt and pepper
Method
Add a little oil to a saucepan and add the onion and carrot. Fry, stirring from time to time for at least 10 minutes until the onions are soft and starting to brown at the edges.
Stir in all the remaining ingredients and bring everything to a boil. Reduce the heat and simmer for 15 minutes.
Divide the mixture into bowls and serve straight away, or divide into portions and freeze.
This recipe also makes a delicious cheat's tagine if you continue cooking it slowly to thicken it. Simply serve it with some tabbouleh.
The sweetness from the carrots and apricots is delicious with the acidic tomatoes and spicy harissa. The chickpeas add a real substance to the soup and with all those different veggies in there it's all goodness. I like to keep mine in portions in the freezer and take a pitta bread to work to have alongside.
I am getting involved with Centrepoint's 'The Big Broth' with this soup. The Big Broth is Centrepoint's latest fundraiser for homeless young people in the UK and they are asking people to submit their favourite soup recipe with the chance of having it produced by Yorkshire Provender. Then, each pot sold by Yorkshire Provender will mean 20p goes to Centrepoint. If you'd like to submit a soup recipe you can do so here.