Sometimes carrots can be taken for granted. The base of a soup or stew, added to stock or shoved on the side of the plate. What a shame. They are such glorious things in their own right and there is no carrot sweeter than a home grown carrot. I planted these little beauties a few months back expecting them to be riddled with carrot fly and a complete disaster. The results have been quite the opposite. I am now inundated.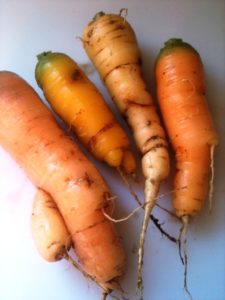 Before you ask, the one second from right is not a parsnip, it is a white carrot. The two on each end are orange and the other is a yellow carrot. I didn't know what a rainbow I had underground until I pulled them up.
Whether you're using home grown or bought carrots, a lovely subtle carrot soup has to be the way to go. Carrot soup is one of my favourite soups but the carrots can sometimes be overshadowed with what they are paired with. Sometimes coriander can be a little too much or the orange overwhelms the humble sweet carrot flavours. Not this time though.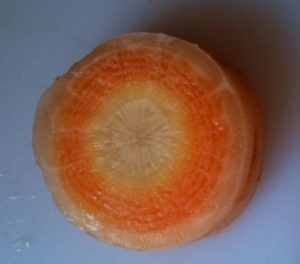 Method
This recipe makes two bowls of soup:
This soup was all about the carrot so I washed (thoroughly) and chopped up my carrots and a small onion. I'm not sure if the above carrot is meant to have rings of different colours or if it is actually a sign of my neglect but I thought it looked rather suave.
Fry the onion for five minutes or so in butter until slightly soft and then add the carrots. Put a lid on and leave them to cook in their own juices for another five minutes.
Add some light vegetable stock or half a stock cube in some water. The amount you add depends on how thin or thick you want your soup.
Leave to simmer for ten or so minutes until the carrots are soft and then blend.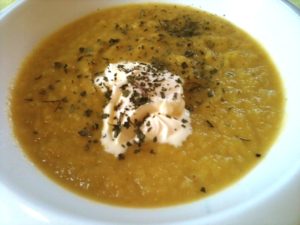 I had some crème fraîche hanging around so I plopped some on top. I wanted to add a tiny bit of fresh parsley but I only had dried. It did well enough. I expected it to be a more vibrant orange but I expect the white and yellow carrot toned it down a bit. It was a wonderful soup. There was nothing to distract from the honesty of the carrot. It was
sweet, it was rich, it was velvety and most importantly it did what any good soup should do; warm you up from the inside.
I know I've banged on about growing your own before and I know it's not possible for everyone to have the space to do it but even if you just have a pot on a windowsill you can amaze yourself. I always thought I killed plants but it turns out I have somewhat of a knack for vegetable growing. £1.10 for a bag of about five organic carrots versus £1.79 for a packet of 200 organic carrot seeds. Even if only a small percentage of them grow, you're still quids in. Now is the time for planning what to grow next year. The first time you grow something from seed to plate it is an emotional roller coaster but it has to be one of the most rewarding things I have ever done. If I can do it, seriously, anyone can.