Meals that are made from a few simple ingredients are invariably some of my favourite dishes of all. A quick scramble around the cupboards and fridge pulling ingredients and ideas together always feels more satisfying; like you're getting a meal for nothing. My evening meals are always planned in advance so it's lunchtime where I get my Ready Steady Cook hat on. Sometimes however the scrabbling approach doesn't yield any particularly tasty sounding results; ham and chocolate spread tostadas anyone? This time however, the combination of ingredients I had resulted in Wild Garlic and Crispy Fried Salami Potato Salad and it was brilliant.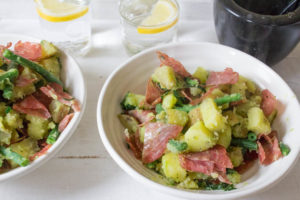 Ingredients
You will need (for two):
400g potatoes, peeled and roughly chopped
Handful green beans, topped and tailed, halved
Small handful wild garlic
12 slices Italian salami (I used finocchiona which has fennel in), roughly chopped
3 tbsp extra virgin olive oil
Juice 1 lemon
Salt and pepper
Method
Start by putting the potatoes into a large pan of salted water. Bring the pan to the boil and cook the potatoes until they are cooked through, cooking time depends on how big you have chopped them. If you have a steamer add the green beans to the steamer over the potatoes for the last few minutes of cooking, or boil separately for a few minutes.
While the potatoes are cooking put the wild garlic (after a thorough rinse) into a pestle and mortar with a pinch of salt. Bash everything up together well until you have a thick paste then add the olive oil, a pinch of pepper and the lemon juice.
Get a frying pan on a medium/high heat and add the salami. Dry fry until crispy, plenty of oil will come out of the salami.
Drain the potatoes when they are cooked (and the green beans if you have cooked them separately) and mix with the beans, salami and wild garlic oil.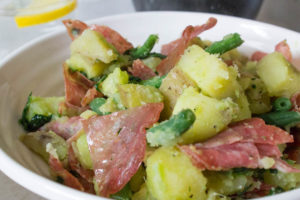 The grassy and faint garlic whiff from the wild garlic is so good with the slightly fatty salami. The fennel in the salami works really well but any salami would be delicious; it's a different flavour to something like bacon. The potato breaks down after it's cooked so the wild garlic oil nestles in the little nooks and crannies and turns everything a wonderful green. The beans add a little freshness and the lemon finishes it off with its zesty acidity. A meal as good as this from a few leftover ingredients and a bit of a rummage in the hedgerows; perfection. Something else equally as potato filled and garlicky are my wild garlic gnocchi if you fancy trying something veggie!!
If you want to have a go foraging for wild food, take a look at my beginner's guide.