It's time to put the jumpers away and dust off the summer clothes. Almost, it's still pretty cold in the mornings! I find this time of year is when I start to try more new things, especially in the kitchen. Cooking with different ingredients, mixing up meals in the week and having something as a new little treat with my lunch always feels better when the skies are blue. So here's some new snacks for spring that I've been trying in my kitchen recently.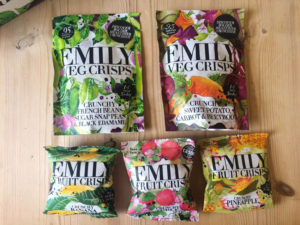 As pretty packaging goes Emily Fruit Crisps has got to be at the top of the list, it's so lovely to look at and I think really inviting. I had several of the fruit varieties to try: banana, apple, pineapple and in the vegetable varieties: french beans, sugar snap pea and edamame and sweet potato, carrot and beetroot. One thing that is consitent about the Emily crisps is that they are actually crunchy, no soggy fruit or vegetables here and the ingredients are very clean; just fruit, vegetables and sustainable palm oil. The skins are left on for the apple crisps which I liked and all the fruit crisps were good as a snack or added to cereal. The vegetable crisps I really liked too, crispy French beans are lovely! Available in shops up and down the country, and online RRP for the bigger bags £1.19-£1.49.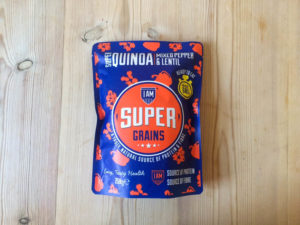 I've seen some of the I Am Super Food products before, I think the packaging really stands out. I tried out a pouch of their Quinoa, Mixed Peppers and Lentils. It's ideal to keep in the cupboard as a quick meal fix, I also liked that there were instructions for cooking that don't involve a microwave (as I don't have one!). I shared the pouch between two and had some harissa marinated chicken and salad on the side, it was really filling and the texture was more interesting than just having one grain. I can easily see how having a few of these in the kitchen would come in handy on a busy week. They sell online, at the moment this flavour and some of their others are on sale at 6 for £10.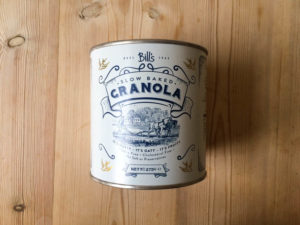 I was looking forward to trying out Bill's granola for my breakfast; I loved that it came in a tin. I really liked that the ingrients used were exactly the ingredients that I would and nothing else. Just oats, honey, maple syrup, fruit, nuts and seeds. The seed, nut and fruit portions were really generous meaning that you always got a bit of everything. I enjoyed having a few spoonfuls over my yoghurt and the flavour was lovely, not too sweet. I'll certainly be using the tin as a little plant pot too! RRP £4.95 for 500g.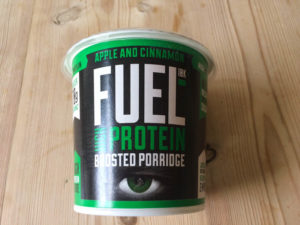 The little pots of porridge you can but which you only need to add hot water to are a great idea for a busy morning I think. As long as there's not too much sugar though! Fuel 10 have reduced the sugar in their protioats pots by 20% so I was pleased to see that. I had this for breakfast at work on a busy day and it did keep me full until lunchtime which doesn't happen very often! The chunks of apple in the porridge added a nice texture and the cinnamon wasn't overpowering. RRP 8 pots for £9.52.
Food essentials that aren't processed are what Urbangrains are all about; they source different ingredients from around the world from small, local producers. The full review will be up later this week and there will be a giveaway that's certainly worth entering!
Thanks to Emily Fruit Crisps, I Am Super Food, Bill's and Fuel 10 for the samples. All opinions and words expressed are my own. All prices correct as of 10.5.17.