This was a gifted meal.
I have to admit that I am a big fan of a 'Tasting Menu'. An opportunity for the chef and restaurant to show off different styles, techniques and flavours; improved further if there's matching wines to accompany it all. Also, let's be honest, I'm a fan of anything that means I get to gorge myself on everything indulgent. I was invited to try out The Newbury Tasting Menu and was really looking forward to it; what to expect in terms of theme or style made me wonder what we would be served and yes, I was very excited about the matching wines.
I should begin by saying that there were nine (yes, nine) courses on the menu. Also, as it was a tasting menu and they were after our feedback on the dishes there are no prices below. However, I'm hoping that this, or a very similar menu, will soon be available at The Newbury.
The first course was wild mushroom velouté, garlic chantilly and toasted sourdough. This was paired with an Argentinian sparkling sauvignon blanc. This was a nice, light way to start the meal. The chantilly was good and thick but could have done with a touch more garlic for my liking. The mushroom flavour was just right and the sparkling SB was a great match; acidic enough to just cut through.
The second course for everyone else was scallops and chorizo, however as seafood and I don't get along I had confit chicken leg with celeriac remoulade. This was paired with a Sicilian zibbibo. The skin on the chicken was so crispy and the meat just fell off the bones. The jus was so rich in flavour and when it got all mixed into the remoulade it was just delicious. I could happily eat a massive bowl full of this. The zibbibo was the wine of the night for me, it's my new favourite white and I'll be looking out for it everywhere I go.
For the third course we had chicken liver parfait and redcurrant gel, paired with an Austrian grüner veltliner. The parfait was very rich, it was served with more sourdough toast to scoop it all up and the redcurrant gel and wine worked well together to cut through the richness.
The fourth course was cod, black garlic mash, crispy kale, salsify (and curried mussels for everyone else!). This was paired with a South African Rhone style blend. I really liked this. The kale was so crispy, I thought it could do with a little sweetness to make it even better and the cod was perfectly cooked. A few bits of salsify added a good bitterness and the lightly curried sauce brought everything together well. The black garlic mash was very earthy and the little blob of lemon gel cut through this nicely. Again, the wine was a good pairing for this dish; definitely a combination for the summer.
I was starting to feel well on my way to full at this stage but there were plenty more courses to go. The fifth course was duck breast, cherry puree, spinach, potato rosti and wild mushrooms, paired with an Italian primativo. I loved how crispy the rosti was with this as the texture was great with the soft, rich duck. The cherry and mushroom worked well together, especially with the wine. There were also some kirsch soaked cherries but they were a little strong for my taste.
The sixth, and final savoury, course was rump of lamb, basil mash and ratatouille. This was paired with an Australian cabernet/merlot. This was such a pretty dish and a real classic combination of flavours. I liked that the ratatouille was diced so finely and was full of colour. The lamb was perfectly cooked but a special mention has to go to the basil mashed potato; so smooth, so green and so fresh. The Italian wine was a good partner for this French inspired dish.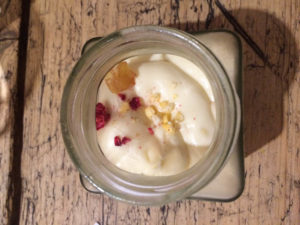 The first of three desserts was ginger and white chocolate cheesecake served with a sauternes. I've got to confess I really don't like ginger, however, scooping around it led me to a wonderfully smooth but light cheesecake. It wasn't too tangy (like with some cheesecakes can be) and was so smooth I'd have thought it was just clotted cream. I do like a dessert wine and I thought the sauternes was great with this.
Unfortunately I had to leave the tasting before the final two desserts, which I was most upset about, but I had an early start the next morning. Had I stayed I would have enjoyed banoffee mille fuille and a warm chocolate tart. I'll have to hope they make it onto their menu soon!
Overall I thought it was a great menu showing off some real classic flavour combinations and styles of cooking but with some modern twists thrown in for good measure. I think my favourite dish has to be the lamb; that basil mash was fantastic. Or maybe the chicken as it was so rich and homely. The menu as a whole I think would have dishes for everyone giving people an opportunity to try something they might not have tried before. Who could say no to trying this many different plates of food, all in the same place, that are designed to work together.
I was invited as a guest by The Newbury, thank you to them. All opinions expressed and words are my own.