I like to look forward to my lunches; whether I'm using up some leftovers to make a quick salad, sticking all sorts of ingredients in a sandwich or slurping on soup. Sometimes it can be very tempting to just grab the quickest thing in the kitchen but if I do that I am invariably disappointed at lunch time. So say hello to my three easy soup toppings which can all be made in less than five minutes, using ingredients you probably already have and can be made in advance to enjoy at work.
New Covent Garden Soups are currently encouraging everyone to revive their lunch life, something I was really keen to get involved with as I think lunch can make or break a day. Below are my three easy soup toppings and the soups that I chose to serve them with. You can get creative and add any of the toppings to any of the soups and have a go at putting your own twist on them too.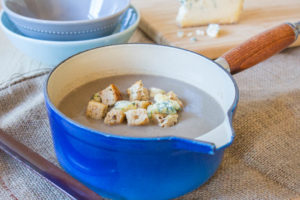 Wild Mushroom Soup with Blue Cheese Croutons
You will need (per bowl):
One slice stale bread, crusts removed and cut into cubes
1 tbsp olive oil
Salt and pepper
Blue cheese (you could use any other cheese if you prefer)
Mix the bread with the oil, a pinch of salt and plenty of black pepper.
Fry the bread in a non-stick pan on a medium heat for a few minutes until lightly golden.
Leave the croutons to cool before mixing with as much blue cheese as you like, ready to top the warm mushroom soup.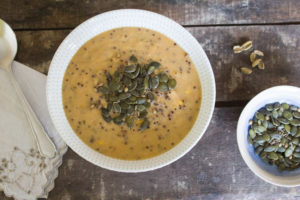 Sweet Potato and Corn Soup with Toasted Seeds and Spices
You will need (per bowl):
Handful pumpkin seeds
1 tbsp each cumin seeds, black mustard seeds, coriander seeds, cardamom seeds
Get a small frying pan on a medium heat. Add the seeds and spices and warm for a few minutes, stirring often, until they are smelling toasted and lovely.
They're ready to pop on your soup, or store for later.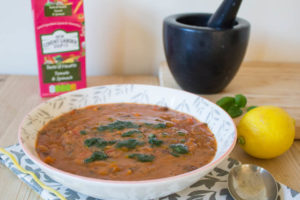 Tomato and Spinach Soup with Herb and Lemon Oil
You will need (per bowl):
Small handful basil
1 small garlic clove
Salt and pepper
2 tbsp extra virgin olive oil
Juice ½ small lemon
Mash the basil and garlic with a pinch of salt until you have a rough paste. You can use a food processor if you prefer.
Pour in the olive oil and lemon juice and give everything a good mix.
Either drizzle over straight away or keep to add later.
These three toppings are really versatile; change the bread and cheese around for different croutons, use different seeds or try nuts and use whichever herbs you have hanging around in the fridge, you could try infused oils too.
The flavours of the soups really complement the toppings. Blue cheese and mushrooms are always good together and the cream and white wine in the Mushroom Soup brings everything together so well. The Sweet Potato and Corn Soup already has spices in it, with a little chilli kick, and the crunchy seeds add a great texture. The Tomato and Spinach Soup is full of beans and lentils making it really filling, the herb oil adds a little lift of freshness over those wholesome flavours. If you're after extra brownie points for Valentine's Day then I think any of these soups would make a great starter for a romantic home cooked meal. Minimum fuss cooking, preparation and washing up and maximum Valentine's points for you.
This is a sponsored post and I was reimbursed by New Covent Garden Soup for my time and ingredients. All opinions and words are my own. Thank you for supporting the brands that support me.