I had a grand vision. A toad in the hole to rival all others; one that brought together two of my favourite parts of a Sunday roast in one delicious meal. Pigs in blankets meet Yorkshire puddings sounds pretty amazing to me and so sausage and bacon Toad in the Hole was born. One slight issue with the version that I made was that it was almost a total failure. However, I decided to post this anyway (I think these posts are just as useful as those that are successful) so that if you try it for yourself you can use my ideas at the end to have more success than I did.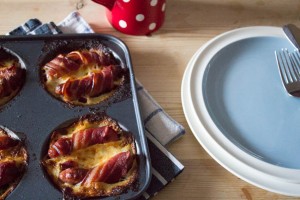 You will need:
You will need (for four, or two greedy people i.e. me):
8 sausages
4 rashers streaky bacon, halved
Oil for frying/baking
125g plain flour
1 egg
300ml milk
Salt and pepper
What I did (see notes below about what to do instead!) was as follows:
Pour a little oil into each of the four holes in a Yorkshire pudding tin.
Wrap each sausage in a halved piece of bacon and place two into each hole of the tin.
Cook the sausages and bacon in a preheated oven at 200C for 10 minutes or so until starting to brown.
Mix together the flour, egg, milk and salt and pepper to make the pudding batter.
The sausages and bacon should have released a little of their own fat so you should have plenty to pour the batter into. Remove the tin from the oven and carefully pour the batter over the sausages into the hot fat.
Return to the oven for 35-40 minutes or until the puddings are risen and golden and the sausages and bacon cooked through.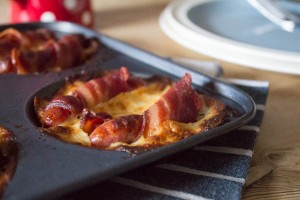 I don't think you have to look very hard to see that my Yorkshire puddings didn't rise. Unfortunately when the sausages and bacon went into the oven they released a bit of water which I didn't think would affect my Yorkies that much. Shows what I know. I think this is why they didn't rise and looked more like pancakes. I also opened the oven a couple of times to try at let some steam out which certainly didn't help matters. However, the sausages and bacon were from a local farm shop and they were really very tasty, even with a little bit of pancake stuck on, so it wasn't all that bad.
If you fancy giving it a try (the idea itself I still stand by as a most excellent one) then I would wrap the sausages in bacon, secure with a cocktail stick and fry briefly first before putting into the oven a few minutes before the batter OR I think it would work well as one big Toad in the Hole rather than mini ones. If all else fails, make some pigs in blankets and Yorkshire puddings separately and just put them on the plate together. Think I'll try that next time.