This was a gifted meal.
I must start by saying that there are a few things I think everyone should know about Southampton. Firstly, it's not just a place to get boats to and from. Secondly, it's home to the UK's third longest stretch of Medieval town walls (and believe me, they are pretty long). Thirdly, as a city to walk around in, there's always something to see round every corner; from fantastic old buildings to modern architecture. Lastly, it's home to The White Star Tavern which makes some of the most interesting food I've had in a while.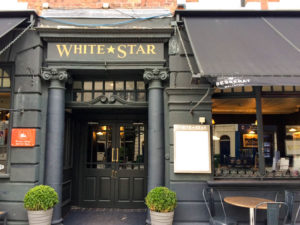 The White Star is divided up nicely inside with squishy sofas at the front for drinks and coffee, plenty of bar stools around the sweeping bar, a relaxed informal dining area complete with roaring fires and a more formal dining room near the open faced kitchen. The drinks list, more like a small book, was full of cocktails, wines and beers but the Seedlip drinks caught my eye. Seedlip is distilled, like gin, with plenty of flavour; according to them it's what you should be drinking when you're not drinking and with a Fever Tree tonic this is my new favourite soft drink (£5.50).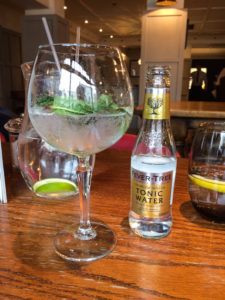 We started with some sharing plates (three for £12): Black Pudding Sausage Roll with Piccalilli, Pulled Smoked Chicken with Pear Chutney and Halloumi Stuffed Falafel with Tahini Dressing. I liked the contrast between the soft black pudding sausage roll and the crunchy, vibrant piccalilli, the falafel were nicely spiced with a good amount of halloumi and tahini and the pulled smoked chicken worked really well with the pear, although the bread could have done with being slightly less toasted. We made a bit of a mess with toast crumbs all over the table!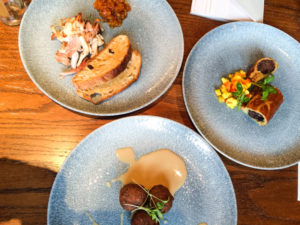 There are two menus available; one with pub classics and sandwiches and one with more restauranty dishes. I was tempted by everything but I really like venison so I tried the Roast Venison Loin, Red Cabbage, Glazed Salsify, Oats, Galette Potato, Huntsman Sauce (£20).  My dish had everything you could possibly need from a plate of food: rich sticky sauces, slightly bitter salsify, crunchy spiced oats and seeds, buttery potatoes, lightly pickled cabbage and perfectly cooked venison. I wish I could have had it again as soon as I'd finished it but you'd have had to roll me out of the pub.
The OH can never say no to a burger, he's quite the aficionado, a burger-sseur if you will. He tried the Steak Burger with added Pulled Beef and Onion Rings (£18, the burger without added extras is £14). The burger was, in the OH's own words 'epic' and I have to say the combination of juicy burger, rich pulled beef, burger sauce, crispy salad and toasted bun was pretty irresistible. The onion rings could maybe have done with a few more seconds in the fryer as they were slightly doughy but I think I'll be hard pushed to find a burger to match up to that.
When something is called Death By Trillionaires on a menu it's hard to not order it. This dessert consisted of: Pistachio Brownie, Tonka Bean and Chocolate Cream, Chocolate Crumb, Caramelised White Chocolate and Vanilla Parfait, Salted Dulce de Leche, Morello Cherry Sauce (£8.50). I think we can all agree that this sounds pretty good but when it came to the table in the shape of a coffin (complete with gold leaf) with a skull on top and blood spattered on the plate it made me take a step back. What fantastic presentation, they could have served it any old how but I love how inventive this was and it wasn't all about appearances by any means. It tasted as good as it looked.
The OH ordered the Baked Rice Pudding Brûlée, blueberry Compote, Passion Fruit Parfait (£6.50) which would have been my other choice and I think this looked pretty as a picture. Rice pudding isn't really known for having much texture but with the brûlée on top it added a great crunch.
I think The White Star Tavern has a bit of food for everyone; a few plates to share, classic sandwiches and something a bit different too. It's found down Oxford Street, near the city centre and is definitely one to seek out. One more little fact about Southampton for you if I may. Jane Austen and her family used to go to the Southampton promenade in the summer (for walking around with parasols I imagine) and in winter they would ice skate on the nearby frozen meadows.
This lunch was paid for by The White Star Tavern, thank you to them. All opinions expressed and words are my own.