I made my quince gin as a way to use some of those delicious fuzzy fruits that grow in the garden. The gin has come out a wonderful, pale canary yellow colour and makes a divine gin and tonic. It is in fact so delicious that it deserved a mix up of its own, something to complement the quince's distinctive flavour. I love using herbs in drinks and puddings and I wanted to add a botanical twang to this drink. A Lime, Thyme and Quince Gin Cocktail is the way forward. Trust me.
Ingredients
You will need (per drink):
50ml quince gin (recipe here)
Juice ½ lime
1 sprig fresh thyme
Tonic
Method
Roll your lime ferociously before halving and squeezing it out to get as much juice as possible. Put the juice into a small glass with the sprig of thyme. Muddle the lime and thyme together to release the oils from the thyme. Strain the infused lime juice into a serving glass.
Add the quince gin to the lime juice and give it all a mix. Top up with tonic and serve. You can stick another thyme sprig in the glass to make it look snazzy if you like. I did. Yolo.
If you've got ice cubes at your disposal then a couple would make a welcome addition to this drink.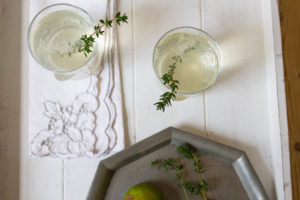 Considering this looks like quite a summery drink it screams of autumn flavours. Quince is such an autumnal fruit and woody herbs like thyme always make me think of slow cooking, roasts and chilly evenings. If you've not tried quinces before I thoroughly recommend you scour your local greengrocers or farmers' markets to track some down; they are so worth finding. They have such a fantastic, almost tropical flavour which coupled with sharp lime and earthy thyme is a cocktail certainly worth trying. If you absolutely cannot find quinces you could always plant a tree, or failing that, you could use pears.