This was a gifted stay and meal.
A night away is a real treat; one where you have gone far enough that you're away from home but not so far that you get bored of driving. The New Forest is much closer to me than I had previously realised (how I've not recognised this before is quite astounding) and a great place to get away from the hustle and bustle of day to day life so I was really looking forward to a stay at Burley Manor.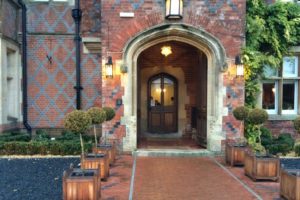 The hotel
Based in Burley, in the New Forest, Burley Manor is a wonderful, big old house that has been transformed into a modern hotel. There have been some new bits added so there are more rooms but as they are no taller than one story and red brick like the main house you don't even notice they're new. Throughout the lounges, dining room and conservatory (and most of the rooms too) you have an uninterrupted view of the beautiful New Forest countryside; which when we arrived was straight out of a Countryfile calendar complete with deer and everything.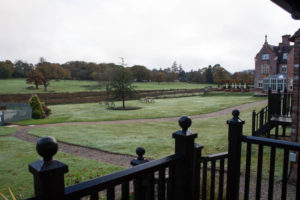 Burley Manor's location makes it easy to get out and explore the New Forest on foot, or you're only a short drive from towns and villages. The grounds of the hotel itself are nice to walk around; you can take an inside or outside route to and from almost anywhere in the hotel as it takes your fancy. I liked the sign that we found on one of the footpaths! They even have an outdoor swimming pool for use in the summer and a spa on site too.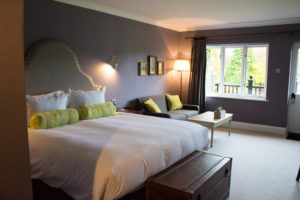 The room
We were staying in one of the Garden Suites which as you can see was lovely. The room was huge with a great little entrance hall to house the vintage dark wood wardrobe, king sized bed and lounge at the end. There was also a back door to the room which went out onto a private deck so you can enjoy the view. I really liked the mix of vintage furniture, modern comforts and botanical/countryside art and paintings.
I loved the little cookie jar in the room which told you to help yourself to their home baked cookies and the tea and coffee chest, for there is no other word for it, was as well stocked as a café. All the toiletries were Templespa, which is the brand that they use in their spa, so they were a nice little treat to use. The bathroom had one of those epic waterfall showers too which was excellent.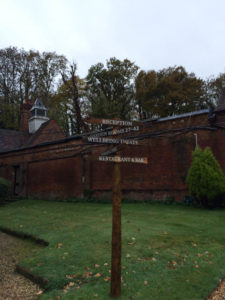 Walking around the hotel was always interesting because there are corridors that head in directions you think you shouldn't be going down; they're signposted so you are definitely going the right way! It makes you feel like you're getting a behind-the-scenes glimpse into the hotel. The corridor leading to the kitchen was complete with a walled display of sieves and colanders. A really nice touch. The fires were always lit, the layout carefully thought through and the furniture quirky and comfortable.
The food
After a very relaxing afternoon taking a quick wander round Burley we went over to the hotel bar for a few drinks before dinner. They had a good range of gins without there being too many and a good range of beers too. We looked through the menu and wine list before going through into the dining room for dinner. One thing that really stood out to me is how important provenance is to them; there is a list on the back of the menu telling you exactly where they source their fish, eggs, meat, vegetables, cheese and everything else. If it's made in the New Forest and it's delicious then that's who they will source from.
It's not often that I'm torn between so many things on a menu. Normally I can narrow it down to two or three dishes but I honestly didn't know what to choose. The spicy chickpea soup sounded so comforting, the lentil galette caught my attention too but I settled for the quail and artichoke (£7). It is game season after all. Fortunately the OH ordered the lentil galette (£6) so I could have a try of both. I expected my quail to be quite traditionally prepared with a nice bit of artichoke puree; it was prepared excellently and there was artichoke puree but it was also beautifully spiced. Full of coriander, cumin and paprika. I've never had quail served up like this and it was so refreshing. The lentil galette was sort of like a lentil pancake, again nicely spiced, and the crumbled feta and crispy butter beans around the edge lifted it up.
Choosing my main was just as hard as my starter. I wanted the tomato and tapenade tart, the lemon sole, the lamb and the Cypriot chicken. But I had to order the venison (£16); the first of the year and it came with chard which is one of my favourite veggies. The OH had a similar problem but was sold on the patatas bravas that came with the sirloin steak (£21).
Let me paint the plate for you: a pile of wilted chard leaves and just cooked sliced chard stems, thinly sliced wild mushrooms, a few steamed potatoes, a piece of medium/rare cooked and sliced venison fillet on the top and everything was drizzled with jus. I loved this; it was exceptional. It was so seasonal that it was almost screaming AUTUMN at me and you couldn't have packed more flavour into any of it even if you wanted to. The OH had a generous portion of potatoes and bravas sauce, which was nicely spicy. The steak was delicious; cooked and rested really well.
The focus on the wine list is on French wines but we actually ordered a Chilean Pinot Noir (£25) to accompany our meal. There was a slight confusion and we ended up with a New Zealand Pinot Noir but it was a good, light red to have with our starter and main.
When it comes to a dessert menu it's never difficult for me to choose. I basically just scan the menu looking for the words 'Treacle Sponge Pudding' and if they appear this is excellent news. If they don't appear then I have to put in a bit of effort and actually read the menu to find something I'd like. Not here. I had the same problem with puddings; I wanted every single one. Minted chocolate fondant? Yes. Slow baked apple with shortbread and sweet almond cream? Yes. Banana ravioli with fruit minestrone? Yes please! I had to narrow it down by what I would most regret not trying so I settled for the peanut butter parfait with caramelised popcorn, pineapple and sesame (£7). It was possibly one of my favourite desserts ever. The parfait was so light and not too sweet, the caramelised popcorn had that fantastic lightly burnt sugar flavour, the pineapple was sharp to cut through everything and the sesame tuille was brilliant. The OH had three cheeses (£7): Dorset blue, Tunworth and Lyburn goat's cheese with plenty of membrillo, grapes and crackers.
The breakfast
Dinner finished with a lot of smiles on our part and we headed back to our room for a good night's sleep. Based on dinner I was pretty excited about breakfast and I wasn't disappointed. The table they laid up full of bread, croissants, cured meats, cheese, muesli and cereals really reminded me of all the Swedish breakfasts we enjoyed in Gothenburg recently. Now I know that my plate looks like a bit of a weird combo but I really fancied trying some of the bresaola and salami and I know that the Lyburn goat's cheese is excellent so they sort of fell on my plate. And I can never say no to a chocolate croissant.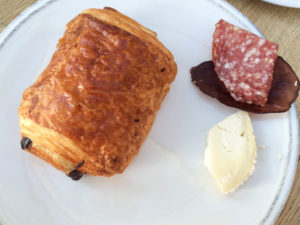 The provenance of the ingredients used carried on to breakfast. I had locally smoked trout eggs royale and it was everything I wanted it to be. The trout was amazing (I'd love to know EXACTLY who that came from so I can go and buy all of it), local eggs with runny yolks, crisp muffins and fantastic homemade Hollandaise. Just typing this now makes me want some more. The OH's Burley breakfast was complete with homemade baked beans and the interesting cousin of traditional black pudding; white pudding. He told me it was all very good although there was no hope of me grabbing a bit of any of it!
We left early-ish on the Sunday morning and headed to Lyndhurst for a wander round; the independent shops are always worth a visit. The thing that struck me most about Burley Manor was just how New Forest focussed they are; somewhere to go where you know you can get fantastic food cooked with the best local ingredients. I loved the Mediterranean twists they had on the menus and I must also mention that you can get a Chateaubriand or a porcetta for Sunday lunch. If and when I am passing their way again I will definitely be making a restaurant reservation!
Dinner, bed and breakfast was paid for by Burley Manor. All opinions expressed and words are my own.