Sometimes I make something for the first time and I wonder why it's taken me so long to get round to it. Iced tea is one of my favourite drinks, especially lemon iced tea, but other than a passion fruit and jasmine version I concocted a few years ago I've not made my own since. I wanted to make some to take on a recent picnic as I thought it would be nice and refreshing in the late summer sun. Considering this only uses three ingredients, I used the very best ones I could: all organic and the tea I used had the wonderfully, British, charming name 'Georgian Old Gentleman'.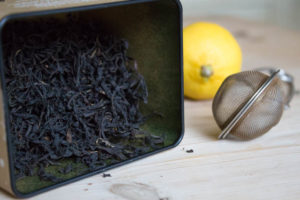 Ingredients
You will need (for around 500ml):
3 tsp loose tea leaves
3 thick slices of lemon (organic if you can, otherwise you get a faint oiliness on the top of the tea when the wax melts off the lemon rind)
2 dsp caster sugar (organic if you can so it's unrefined for a delicious caramel taste)
Method
Start by making the tea. Put three nice big teaspoons of tea into a pot (or heatproof jug) and add 500ml boiling water. Leave to steep for around five minutes before removing the tea leaves.
I have a snazzy teapot which makes the above stage very easy: I simply remove the middle of the teapot which contains the tea leaves. If you don't have one of these just strain the tea through a sieve or tea strainer into another jug or teapot.
Add the lemon and leave everything until it has cooled.
Remove the lemon slices then stir in the sugar until it's dissolved.
Cool in the fridge and then serve over ice. Or, as I did, pour it into a Thermos to keep cool and take it on a picnic.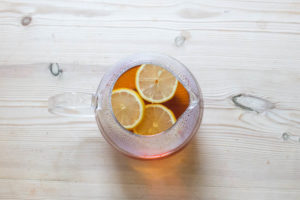 It was as refreshing as I hoped it would be and it had the most fantastic unique twang because of the tea that I had used. Just the ticket to sip while sat on a log enjoying a picnic. I'll definitely be playing around with different fruits and teas to experiment with lots of different flavours. I can't believe how ridiculously simple it was to make; why has it taken me so long to make it again? I love that you can add the amount of lemon, tea and sugar that suits you. The recipe above is much less sweet than ready made iced teas that you can by, and that's how I like it.