You might have noticed that autumn has arrived. We're still lucky to be enjoying sunny days and there are still green leaves on the trees but as things get cosier, the food I eat changes. Here a some of the things I've been trying which I think make the move into autumn tastier: my new products for autumn.
I've had a few things with matcha tea, mostly desserts, but I hadn't had the actual tea itself many times. I took on the TeaPigs Matcha Tea Challenge to have a cup every day for a month. I have to admit that I didn't manage every day but I certainly did most. I like how fresh the tea tastes and it's so green that you feel healthy just sipping it. I also like that a waft of green smoke seems to rise from the pot each time it's opened. I enjoyed the tea prepared in hot water and also tried a sprinkling on my porridge and yoghurt with some dried fruit. For a small pot it lasts an awfully long time.
I like tea in any form but I don't drink a lot of chai tea. I really liked these ones from Ichai. The mixes are all numbered so you know which ones you have tried before. The red pot was spicy chai (number 1), number 3 was ginger chai, number 7 vanilla (my favourite!) and number 8 was classic chai. I really liked the strainer that you use for making the tea, it's fun to use. I've been enjoying this with plenty of milk in the chilly mornings; the smell is so good it can't fail to wake you up!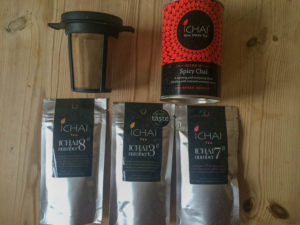 I have seen Essential Cuisine stocks in a few farm shops and butchers but never tried them. I had four flavours to try out: Vegetable Stock, Chicken Stock, Lamb Stock and Beef Gravy Mix. It's impressive how much flavour comes from just a spoon or two and the small pots actually last a long time; you pop them in the fridge once opened. I have them on a little shelf in the fridge and have been adding them to stews, risottos, soups and all sorts. It was a nice change for me to have a gravy mix, it's not something I would normally buy, and it made weeknight sausages and mash much quicker and easier. The flavours of all of them were all good; clean and intense without being artificial or too salty. They do some other flavours too (including some glaces) so I'll be looking out for those.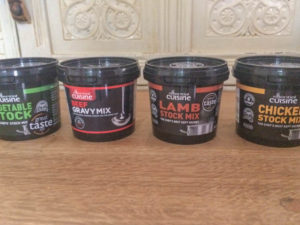 I am a big fan of porridge and there are so many different flavours around to try. The little packs (below) are perfect for taking to work and bunging in the microwave for a speedy tasty breakfast. I tried the cranachan, hedgerow (my favourite!) and the original (I added a drizzle of honey to mine). I also had some muesli to try with blueberry, cranberry, raspberry and mixed seeds which was really good with yoghurt. The Toasted Oaty Flakes were really interesting; they were crisp, dried oats so you add milk and eat them like cereal. I really liked them and added a couple of handfuls to some homemade granola for added crunch.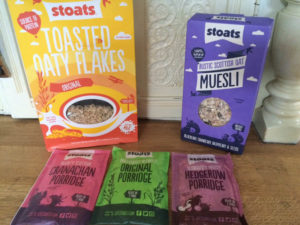 The sound of a cured sausage from Crown & Queue which was made to reflect the flavours in Leffe beer really appealed to me so I couldn't wait to get my teeth stuck in. I loved the brown wax paper that the cured sausages came in and a few slices of the sausage with some crusty bread and a sip of Leffe was delicious. The Leffe infused sausages, made with British heritage pork and local herbs are available for a limited time from Crown & Queue meats; I wish I'd saved some so I could have tried cooking with it!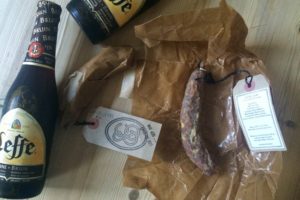 A couple of delicious ideas and ingredients for autumn cooking, I'm looking forward to cooking and mixing up these ingredients throughout autumn.
Thank you to Teapigs, Ichai, Essential Cuisine, Stoats and Crown & Queue and Leffe for the samples. All opinions and words expressed are my own.