The living is easy in summer. Gorgeous fresh produce, long days, and fantastically easy recipes. Create some wonderful dishes that will accompany you while you're out and about or that you can simply enjoy while sitting at home.
The easiest way to produce some seriously delicious snacks, that are creative and simple to prepare, is to investigate the world of dips. From mayonnaise to sour cream, from pulses to avocados; dips can be healthy, tasty and fun to eat. Here are five ideas to start you on your way – enjoy!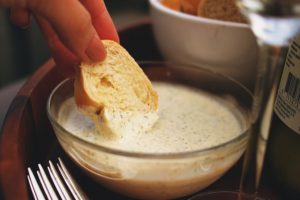 Mayonnaise
Mayonnaise isn't one of life's great mysteries. It's relatively easy to make or you can buy it premade and add something, such as fresh chilli, to spice things up. Patience is the most important ingredient if you're making it from scratch. Once you've broken two egg yolks into a blender add some salt, pepper, crushed garlic (optional) and some olive oil, a drop at a time for the first five drops, and only then let the oil flow in a consistent stream. The mixture will bind and then you can add the wine vinegar and play about with herbs, spices or mustard. To serve, the tried and tested match made in heaven, mayo with chips, never goes a miss.
Guacamole
For a dip with a Mexican twist Guacamole is the obvious answer. You can make this dish as hot as you like, though if you're entertaining remember that not everyone enjoys tasting the hottest chillies on the Scoville scale! After you've combined mashed avocado with diced tomatoes, onions and a few jalapenos add lime or lemon juice, salt and pepper, and, although not strictly Mexican, you can even add some sour cream. Most importantly you'll have created a super cool dip.
Peppers and Walnuts
The wonderfully sweet taste of red peppers works so well with walnuts. Roast the red peppers, then dice bread and walnuts. Add these ingredients to a blender and add pepper, lemon juice, cumin and a pinch of cayenne pepper to the mix. Taste, taste and then taste again just add a little cayenne at a time, less really is more here. Prepare flatbreads or put some crispy McCain fries in the oven to really complement this dip.
Asian Inspired Mayonnaise
The gentle flavours of ginger, soy sauce and sesame seeds combined with homemade mayonnaise and fresh spring onions make for a very light and tasty dip. You could have this as an accompaniment to barbequed prawns or you can just enjoy this as a dip with crisps. Simply combine all the ingredients in a blender, taste and then serve. It really is as easy as that.
Hummus
Boiled and mashed beans have been the basis of many North African and Middle Eastern dips for centuries. They're easy to prepare and they're tasty too. The fantastically delicious hummus is a wonderful combination of crushed chickpeas, tahini (sesame paste) lemon, cumin and garlic. Blend all the ingredients together and you will have created a very moreish dip.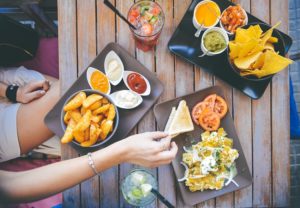 The wonderful thing about hummus is that you can add other flavours, sundried tomatoes are a good idea, or you could be really adventurous and add a variety of crushed nuts to the mix. If you're looking for colour, roasted beetroot will add a sensational look and taste to your dip.
Dips are easy; you'll only be limited by your imagination when it comes to preparing these succulent delights. Open your mind, experiment and, most importantly, have some fun!
This is a collaborative featured post. Thank you for supporting the brands that support me.