Is it just me that is prone to insatiable food cravings? When I get one I am unsatisfied (and sometimes unapproachable) until I have devoured my wanted meal. It could be cheesecake, fizzy cola bottles or pizza but most recently I had a desire for steak and I wasn't going to stop until I'd eaten one. It can be a little awkward in some situations to try and explain to those near you that the reason you are frowning, grumpy and on edge is because you desperately need some smoky bacon crisps. I had my mind set on a juicy steak with peppercorn sauce and thank goodness that I only had to wait a few days to fulfil this particular culinary requirement. Any longer and I'd have probably alienated all my friends.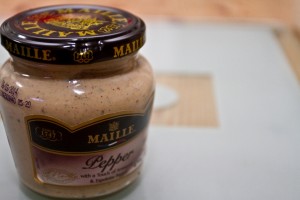 Ingredients
This is such a classic, the ingredients almost don't need listing, however:
You will need (for two):
2 steaks (rump, sirloin, rib-eye, whatever you like)

Chips

250g chestnut mushrooms

Butter

Mild olive oil

Salt and pepper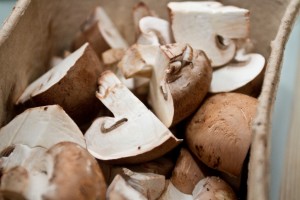 Method
Everyone has their own way of cooking steak and what they like to serve it with but I thought I would share with you how I like mine. Firstly, I have to admit, when it comes to chips I am terrible at making my own and sometimes I buy them so I don't have the stress of a bad batch of spuds ruining my meal. 
I cook my steak in a bit of butter and oil; butter for flavour and the oil to stop the butter burning. I season my steak a little before it goes in the pan and then again when it's in the pan. When the steak is done and resting I chuck the mushrooms in to cook in the pan juices and get all brown and sticky. Lovely jubbly.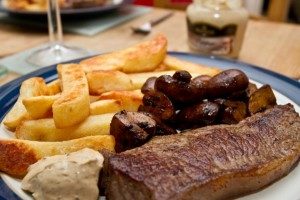 I like garlic and parsley butter or chimichurri sauce with my steak but this time I tried the Peppercorn Sauce with Armagnac and Espelette Pepper from Maille. The sauce had a real fresh pepper flavour; like it had just been ground and the Espelette pepper added a faint warmth. It went really nicely with the steak, chips and mushrooms. This meal was exactly what I needed this week, I wonder what I'll be craving next.
Thanks to Maille for the sample. All opinions expressed are my own.