I was never a fan of jelly and ice cream. I'm afraid that even when I was five I had standards and high expectations of jelly and ice cream that a children's party just could not match. I went off jelly after several wobbly strawberry attempts for many years. I tried it in trifle too (not for me) and it wasn't until I decided to make my own jelly that I appreciated just what a marvel it can be. Now I'm a grown up and I like jelly I've also realised I quite like gin. It's about time these two met each other. Welcome to my gin and tonic mini jellies.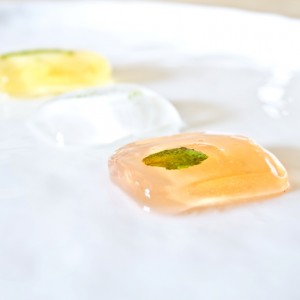 Ingredients
You will need (for around 12 mini jellies):
30g sugar

50ml water

120ml pre-mixed gin and tonic

3 sheets gelatine

Decorations of your choice (e.g. herbs or zests)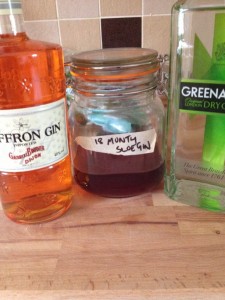 You may have noticed that I have three different coloured jellies. Indeed, not only was this an excuse to get out my calculator and work out gin to tonic to gelatine proportions but also a good reason to try out my new jelly mould and gins. The proportions above are for 12 jellies in total of around 10g each; feel free to mix up whatever spirits you have just divide the total gin and tonic amount by the amount of flavours you want to try and make different batches.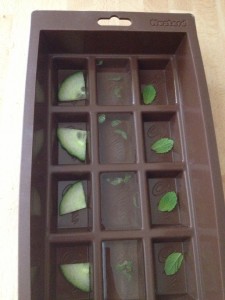 Method
Best to get the mathematics out of the way before you start your jelly making just in case you feel the need to make and drink a G&T at the same time. Not that I did of course.
First of all put your decorations of choice into the jelly mould and go about selecting your gin. I went for: Sloe Gin and Mint, Saffron Gin and Cucumber and Gin and Lime Zest.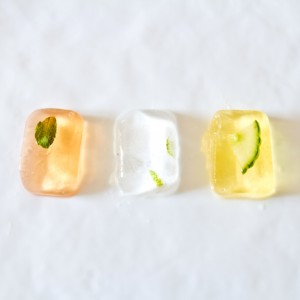 Put the sugar and water into a pan to dissolve the sugar and then bring to the boil. While the sugar and water are heating put the gelatine into cold water. Once the sugar syrup has boiled remove from the heat, squeeze the excess water from the gelatine and stir the gelatine into the syrup until dissolved. Pour in the pre-mixed gin and tonic and stir gently so that you retain some of the fizz. Pour the jelly mix into your jelly mould and refrigerate until set. I like knowing that if you dissolve five sheets of gelatine into 500ml of liquid it will set to a decent quiver so I upped my gelatine to liquid ratio to make these thicker and more like adult gummy bears.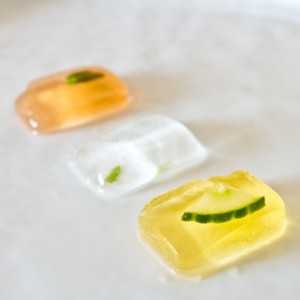 The jelly mould made these the ideal bite sized jellies; you can't quite see it in the jellies but the mould has the word 'yum' on each square. The combinations of sloe and mint, gin and lime and saffron and cucumber worked really well together but I think the gin and lime was my favourite. They were refreshing, distinctive and a little bit naughty. In hindsight the decorations I added worked a treat because you could tell which jelly you were eating (mighty useful if you try three different clear gins). After almost having to get my abacus out these were a reward worth waiting for.
Thank you to Mustard for the cake mould. All opinions expressed are my own.