I am a fan of beetroot; I've tried many different recipes with them in the past but sometimes when the vegetable box keeps bringing me beetroot I am stuck for what to do. I have made chocolate and beetroot cake in the past and I fancied trying something sweet with my latest accumulation, hence, Beetroot and Poppy Seed Cupcakes. Something a little different and somewhat stripy for the lunchbox.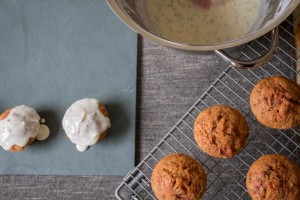 You will need (for 12 cupcakes):
200g self raising flour
1 tbsp baking powder
150g caster sugar
2 eggs
150ml sunflower oil
200g raw beetroot, peeled and grated
2 tbsp poppy seeds
25g softened butter
200g full fat cream cheese
300g icing sugar
1 tbsp poppy seeds
Preheat the oven to 180C. Squeeze as much water out of the grated beetroot as you can (your hands will turn a fabulous pink colour).
Mix the flour and baking powder together in a bowl.
In a mixer (or another bowl) whisk the oil and sugar together until well combined then add the eggs making sure they are well mixed in.
Stir in the beetroot and poppy seeds then fold in the flour and baking powder.
Spoon the mix into cupcake cases until about 3/4 full then bake for 18-20 minutes or until cooked. Remove from the oven and leave to cool while you make the icing.
Beat the butter until really soft. Add the cheese and a few big spoonfuls of the icing sugar and beat again until combined. Add the remaining sugar with the poppy seeds and mix again until combined.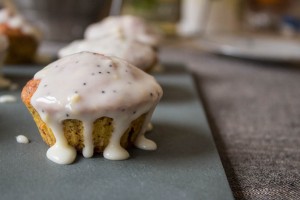 I had planned to pipe (who am I kidding, I planned to spoon) the lusciously thick icing onto the cakes for a little finesse but the icing was somewhat thinner than I had hoped. I think I overbeat the cream cheese, more fool me. So I ended up dunking my little cakes into the pool of icing which was rather enjoyable but somewhat messy. Still tasty though.
They were amazingly pink before they went into the oven but as you can see the colour baked out; it stayed on the top but not inside. I still thought they looked very pretty especially with the poppy seeds dotted throughout. I was surprised how the beetroot flavour didn't carry over as much as I thought; you could certainly tell it was there but it wasn't as distinctive as I'd anticipated.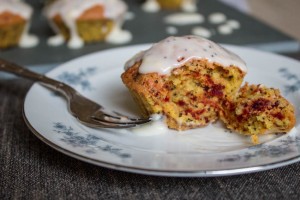 These are well worth a try next time you have some fresh beetroot and as they contain plenty of vegetable and seed particulates I'm sure you could argue that they're healthy. Ignoring the oil, sugar and full fat cream cheese of course. If you find you have many, many beetroot and are after some further beetroot inspiration, check out some of my other ideas here.