Those of you who have been reading my blog for a while will know about my penchant for sloe gin. I'm not sure what it is about infusing your own alcohol that I like so much. Perhaps it's the romantic idea of foraging for food, connecting with the land and being able to puff out your chest in pride when you've picked a kilo of berries. It could be to do with the fact that I like gin. Either way, my second post about drinks looks at mixing up sloe gin with some classic British flavours.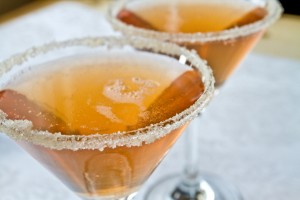 Ingredients
You will need (per glass):
50ml sloe gin (to make your own see recipe here)
1/2 cap full Mr Fitzpatricks Elderflower and Bramley Apple Cordial
Tonic
Juice 1 lime
Caster sugar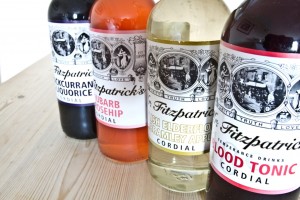 Method
I was going the whole hog with this one, sugar crusting on the edge and everything. It's easier to make the cocktail in another receptacle and then pour it into the sugar encrusted glass; much less risk of dribbling and dissolving. Start by squeezing the lime juice onto a small plate and putting a thin layer of caster sugar on another plate. Dip the rim of each glass into the lime juice and then into the sugar so you form a rather pretty (sweet and sour) edge to the glass. Mix together the sloe gin, cordial and tonic in a jug and then pour into the prepared glasses.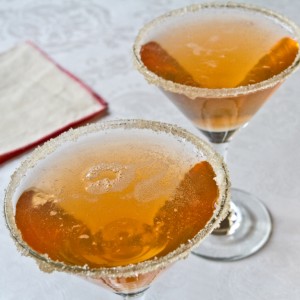 I am fairly convinced (and not at all biased) that this is one of the tastiest cocktails I've ever had. It's a (I'm dubbing this my new term) seasonal-fusion of flavours. The sloe part is very wintry and the elderflower part is reminiscent of late spring but together they make a glorious concoction. The lime and sugar around the glass not only looks charming but it does add a bit of texture and a great sweet and sour element. The slight bit of fizz and tartness of tonic water brings it all together in a fruity, sweet, sour, lightly sparkling, baby pink drink. One which I will certainly be making again.
Thanks to Mr Fitzpatricks for the samples. All opinions expressed are my own.