This is the first of a three part post for Valentine's Day. It's designed to be seasonal, sumptuous, divine and stress free. The quantities are meant for two. The dessert is one that can be prepared in advance and kept in the fridge; the main is meant for long cooking so you have ample time to make the simple starter. All this spare time means you're not rushing around desperately trying find that Barry White CD at the last minute. After all, it's your Valentine's dinner too.
What better way to kick off a Valentine's dinner than with a lurid pink Beetroot and Goat's Cheese risotto? If your dining partner is somewhat faint hearted, the candlelight and romantic music should distract from the intense bowl of fuchsia before them. Throughout the last few months I've cooked with the whole available rainbow of beetroot and it's about time the classic purple had its moment.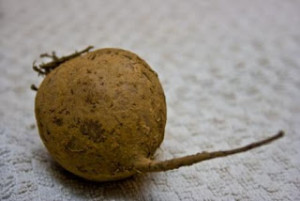 Start by boiling the beetroot; for two people you'll need two or three largish beetroot. Boil these in salted water until they are tender (anywhere from 30 to 45 minutes) and then rub the skins off. They will rub off with ease if the beetroot are sufficiently cooked. To avoid a beetroot splashing disaster, rub the skin off in a bowl of water. After peeling I would suggest a severe hand washing.
After giving the beetroot a little head start make the risotto. Put a pan of chicken stock on the hob to warm up. Finely chop a small onion, a clove of garlic and a stick of celery. Fry these with a little olive oil until soft and then add 150g risotto rice. Leave the rice to absorb a little of the oil before adding a small glass of white wine. When most of the wine has been absorbed, add a ladleful of the warm stock at a time massaging it into the rice. You will need anywhere from 500ml to 800ml of stock. Test the rice after about 20 minutes to see if it's cooked and season if needed. When soft but the rice has a little bite, add a handful of Parmesan, stir, remove from the heat and keep the lid on. It's best if only left for 10 to 15 minutes.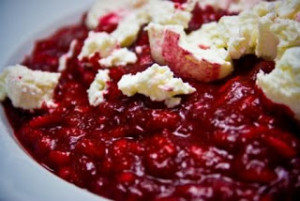 While the risotto keeps warm, blend the peeled beetroot with a little salt and pepper. Here is your opportunity to get yourself changed/ready/drunk. When you are almost ready to serve add the beetroot to the risotto and it turns a beautiful deep pink. Serve with some soft goat's cheese crumbled on top.
The colour has to be seen to be believed but it is glorious. You've got lovely, comforting risotto with the earthy sweetness of beetroot and the creaminess and tang of goat's cheese. What a way to start your dinner. Just wait to see what's cooking for the main course…