It's almost Christmas and that means indulgence and overeating. A candy beetroot and goat's cheese tart is the perfect thing to have as a light meal amidst all the festive frivolities. Candy beetroot can't fail to be eye-catching; pink and white circles which look like a humbug. Beetroot are fantastic at this time of year adding colour to an otherwise mostly green and white season. Whichever beetroot you have it is excellent with goat's cheese and particularly delicious with caramelised onions.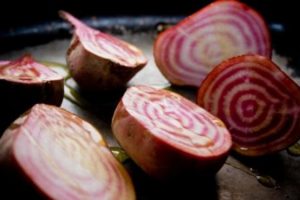 Start by roasting the beetroot, boiling the beetroot will result in it turning pink and not retaining its wonderful stripes. Drizzle over a little oil before roasting and roast for an hour at 180C to 200C. While the beetroot roasts, caramelise the onions. Slice an onion and put into a pan over a low heat with a little butter. Leave to cook slowly for 20 minutes stirring occasionally. Taste after 20 minutes to see if they need a little sugar or vinegar and season. While all this is taking place, prepare your pastry. For my rich shortcrust pastry recipe click here.
To prepare your tarts, roll the pastry out and cut into the desired shape. Put the caramelised onions on the bottom of the tart. Remove the skin from the beetroot (if properly cooked it should come off with ease), cut into smaller bits and put on top of the onions. Crumble over some goat's cheese and fold the edges of the pastry up so the filling doesn't spill out. Egg wash or brush milk on the exposed pastry. Bake in an oven at 180C for 15-20 minutes or until golden brown.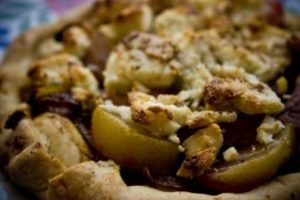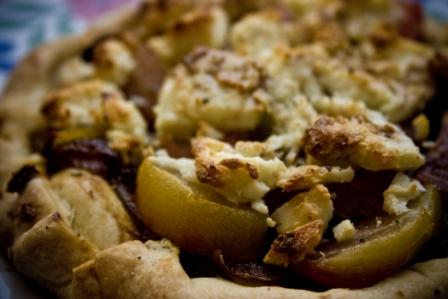 A classic combination made a little more interesting with the candy beetroot. A great mixture of sweetness, creaminess and sharpness. One to crack out before, during and after Christmas. Having lurid pink hands is unavoidable when dealing with beetroot but fortunately the candy beetroot doesn't linger on your finger.