There are so many vegetables around at the moment and fruit is a little thin on the ground. To save me turning into a cabbage I felt I needed something other than a clementine to lift me out of my Savoy stupor. Persimmons (or Sharon Fruit) were something that I had never tried; for some reason they were forever unobtainable. I did manage to get hold of them eventually and was then thoroughly perplexed as to what to do with them.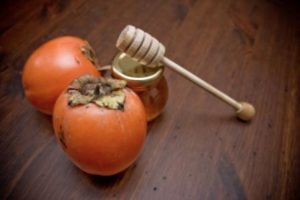 My dilemma was ended when I asked Twitter how to deal with the situation. Roasting them in honey was my favourite suggestion and so I went about constructing honey roasted persimmons. I was very excited.
I had three persimmons to deal with and not a clue where to begin. The leaves didn't look particularly appealing so off they came with a little persuasion. Slicing them in half also seemed like a solid start. It was sort of apple meets peach but they smelled of nothing in particular.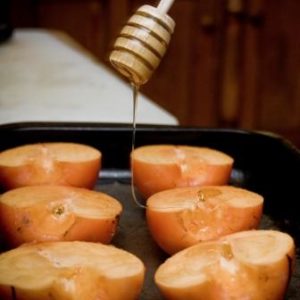 I thought they may brown quickly after being cut but they seemed fine. Drizzle merrily until you feel there is enough honey and then put them in the oven at 180C for 20 minutes. I wanted them to retain a little firmness but also be nice and squishy at the edges.
To go with the roasted fruit I mixed a little vanilla paste into some crème fraîche for a nice bit of acidity to cut through the anticipated sweetness.
There are two kinds of persimmon; astringent and non-astringent. After all the effort and the waiting, this was nothing like I thought it would be; turned out I must have had the astringent ones. It was like chewing on cotton wool dipped in rhubarb juice. It was powdery, tasteless and turned my mouth into sandpaper. I was fearful of having to get veneers after eating it.
I asked my greengrocer what went wrong and she said either I was unfortunate enough to have the astringent type or it was past its best. Initially I was going to cast this post aside but I thought it would be helpful in preventing others from being sorely disappointed.