The poor sprout. I don't know of another vegetable that has to put up with as much ridicule. People turning their noses up at even the slightest mention of this poor brassica must be hard to deal with if you're a sprout. Chances are those that turn up their noses have only tried them boiled to within an inch of their life. There's much more to a sprout than as a soggy green mess at the side of the plate. There is a rumour that sprouts can cause side effects of the flatulent sort. This rumour is also rife for baked beans but it doesn't seem to put people off.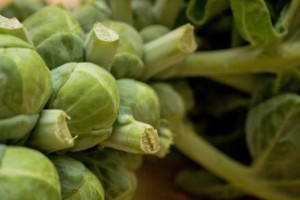 The sprout has the potential to crisp up and caramelise just like a leaf of kale or cabbage would in a hot pan. The crispy edges of a cabbage leaf are one of the most enjoyable and tasty things to eat. With one leaf though there is only so much crispiness it can deliver. Sprouts on the other hand can crisp all over and gently caramelise leaving them sweet, juicy and crispy. This sweetness is at its best with salty, fatty bacon and crunchy walnuts.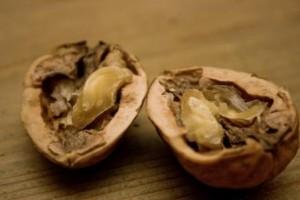 I picked off about fifteen sprouts from the sprout tree for two people. I'm not sure what the actual term is but sprout tree shall suffice. Cut the bottom part of the sprout off; only a little bit to make it easier to remove some of the outer leaves if necessary. I take off any leaves that look like they've been nibbled at or are turning black. Cut the sprouts in half, thirds or quarters depending on their size.
Any bacon would be fine to use but streaky bacon feels slightly more festive and crisps up nicely. Put the bacon into a pan with a little butter. When the fat is starting to crisp, add the sprouts and a little more butter. Turn the heat down so that the sprouts can soften while they soak up the bacon and butter. When they're looking golden, turn the heat up so that they can get crispy and throw in some broken up walnuts and season. Lovely jubbly.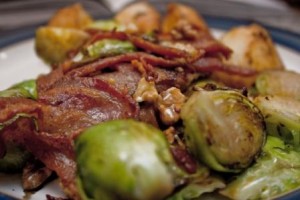 I had this with a few roast potatoes and it was just the right amount of food. The sprouts were just perfect and sort of had their own nutty flavour. The bacon was wonderfully crisp and salty and the walnuts added a flavour of their own. It's hard to describe the oomph that the walnuts added to the dish but it wouldn't be the same without them.
This is fabulous, seasonal food which is perfect in a bowl on its own or in a magnificent serving dish on Christmas day. If you've previously regarded sprouts as nothing more than vile please try them like this, it will change the way you see them. They are not pale, sulphurous lumps with the texture of wallpaper paste; they are glorious.