It was a picturesque morning when I hopped on the bicycle and cycled to the farmers' market. On setting off I was very pleased with myself for saving the planet and burning calories at the same time. The sun was shining, the birds were singing and I was thoroughly convinced I was the modern day Snow White. It wasn't particularly far or mountainous but to say I arrived less than glamorous and somewhat flustered would be an understatement. Let's just say there was a bumble bee that seemed certain its hive was my nostril. 
After the herculean exercise regime I had been through that morning you can understand why I chomped my way through a sausage roll immediately on arrival. This, several servings of chutney on crackers and some coffee allowed me to peruse the market without fear of fainting. Good job too as I got myself 1lb of venison mince and some purple sprouting broccoli. The mince was £2 and a bagful of broccoli was 95p. Absolute bargain.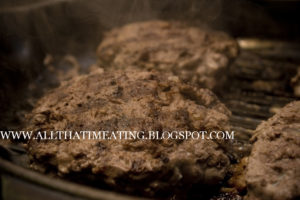 There was a long debate of cottage pie versus burgers but burgers won. If I wasn't so greedy, that mince would have made burgers one night and cottage pie the next. Either way to make yourself some lovely venison burgers you'll need to do the following. 
Ingredients
You will need (for four big venison burgers):
1kg venison mince
1 egg
1/2 small onion
Potatoes
Carrots
Broccoli
Olive oil, for cooking
Dried rosemary
Salt and pepper
Method
Finely chop half a small onion and place in a bowl with the mince, an egg and some seasoning. To get a good texture you really need to get your hands in to mix and squeeze it all together. It makes a similar noise to a wellington boot being pulled out of squelchy mud but put the radio on nice and loud and no one need know. 
Chop up a few potatoes and some carrots and put on a baking tray. Cover with olive oil, sprinkle with rosemary and season. Whack them in the oven for 30 minutes on 200C.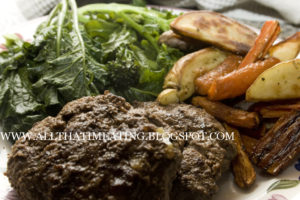 Because the burgers were so dense they actually took quite a while to cook. Give yourself 10-15 minutes if they're pretty chunky. I used a griddle for a lovely smoky flavour. I steamed the broccoli for 2-3 minutes while the burgers rested.
If you're as greedy as me give yourself two burgers and enjoy as it's almost the end of venison season. I'm not sure what was going on with the purple sprouting but it tasted like butter. All I did was steam it and nothing more yet it was so creamy and lovely you'd have thought I'd put much more effort in than I actually did. The carrot and potato chips were crisp and caramelised.
It might not be elegant or even that complicated but it's classic meat and two veg at it's best with fresh, local, seasonal ingredients. I don't think it gets much better than that.
All That I'm Eating