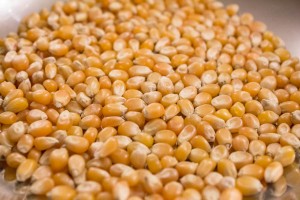 Nothing gets stuck in your teeth like popcorn. Every time I eat it I am optimistic about the forthcoming pearly white issues thinking, "No, it won't be like last time. I'll be extra cautious", but yet I'm forever picking bits out of my teeth in the popcorn aftermath. This is never a good look. Why do we do it to ourselves? I know I'm not the only one. I can think of one very good reason: because it's damn delicious, there's nothing else like it and when you make your own you can truly make it your own.
Ingredients
You will need (for a big bowl for two):
75g popping corn

1-2 tbsp flavourless oil

1 tsp nice sea salt

2 tbsp maple syrup
Method
Get a large pan with a lid on a medium/high heat.
Drizzle on a little oil and swirl it around so it covers the base of the pan.
Put the popcorn into the pan and put the lid on (it helps if it's a clear lid).
Keep the pan swirling around so that the popcorn doesn't catch and wait for the corn to start popping.
Keep the pan moving until you can't hear (or see) any more pops.
Remove the pan from the heat and take the lid off to let any steam escape. read more