It is important to note that this recipe is not shy on calories. There's cheese, double cream, lashings of olive oil, layers of pasta and plenty of veg. My green summer vegetable lasagne is quicker to make than a traditional lasagne (there's no baking) and you can use the sauce with any pasta if you so choose. I like to think that all that green veg negates the calories and I happily ploughed through a whole plate of this. Bear in mind, I am very greedy and although the recipe below says it's for two, it would definitely stretch to three or four!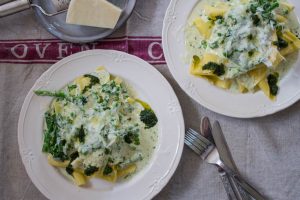 Ingredients
You will need (for two):
Olive oil (for cooking)
1 onion, finely chopped
2 cloves garlic, crushed
2 nuggets frozen spinach (or a handful fresh spinach, chopped)
300ml double cream
Salt and pepper
Handful green beans, halved
Half a small head broccoli, cut into florets
Half a mug of peas
6 sheets fresh lasagne
3 tbsp extra virgin olive oil
Small handful fresh basil
Parmesan
Method
In a pestle and mortar bash the basil up until it's almost a purée and then add the extra virgin olive oil. Leave to one side to infuse.
Get a frying pan onto a medium heat and add the olive oil. Add the onion and fry for a few minutes until soft and then add the garlic and fry for a few minutes more.
Add the spinach to the pan and continue frying for another minute or so to allow any water in the spinach to escape.
Pour the double cream into the pan, bring to a boil, stirring, and then turn the heat off. Be careful it doesn't catch. Season the sauce with salt and pepper and leave to one side to keep warm.
You'll ideally need a saucepan with a steamer that can go on top but you can cook the lasagne and vegetables separately if needed.
Bring a saucepan of water to the boil. Pop the vegetables in a steamer and put them on top of the boiling water for two minutes and then add the lasagne to the boiling water and cook the lasagne and vegetables for a further three minutes (or according to pack instructions).
Drain the lasagne and then layer it up on plates adding the green vegetables and sauce to each layer. Finish by drizzling over the basil oil and shaving over generous quantities of Parmesan.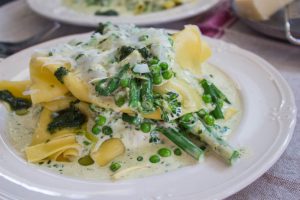 There are so many other vegetables you could add to this if you had them: asparagus, broad beans, courgettes and some roasted cherry tomatoes would be fantastic too. There's a recipe here from BBC Good Food which would make a slightly different filling for my green summer vegetable lasagne. I love how this recipe celebrates fantastic summer vegetables and the freshness of the basil oil really lifts the whole dish. It would also be worthwhile adding a splash of white wine to the creamy sauce if you fancied it. I call this an 'open lasagne' and I have made another one before; full of chard and smoked bacon. You can't go wrong with a big bowl of pasta on a warm summer's evening.