This was a gifted meal.
When you drive into Inglewood you can see the large house in the distance; at this time of year with the lights on it looks very welcoming. We had been invited to have dinner at Blandy's Bistro at Inglewood House in Kintbury. I was really looking forward to it as I had been only a few weeks before and immensely enjoyed their afternoon tea. My expectations for dinner were pretty high.
Sometimes I'll go to a restaurant and the choices on the menu will not be quite to my liking which leads me down a narrow path ending up at only one choice, not because it's my favourite but because I'm not that keen on anything else. I had the opposite problem at Blandy's; I wanted to try one of everything. So while I decided which one to try we munched on some warm bread with a hint of rosemary and onion, the butter was soft and ready to spread which I always think is a good sign.
Starters
The starters I was torn between included: butternut raviolo with chestnut and truffle; smoked salmon roulade, cockle popcorn and wasabi or grilled mackerel nicoise salad. Luckily the OH fancied the ham hock and foie gras terrine (£7.75); the texture of which with the smooth apple chutney and crisp pork scratching was excellent. I ordered the beef broth, ox cheek croustillants, spring onion and shimeji mushroom (£7.75).
It was just fantastic; the broth was clear and so full of rich flavour, there was the smallest hint of star anise in the background which enhanced rather than overpowered the flavour. The ox cheek was tender and the little peeled cherry tomato was a stroke of genius as it was so sweet amongst all the savoury flavours. On the top was crispy potato which brought great texture to the whole dish. Clean but comforting this will be a hard dish to forget.
Mains
It might not come as a surprise that choosing a main course was just as tricky as a starter. We didn't try the Ramsbury beer battered fish, chips and crushed peas; chicken Caesar, egg and Parmesan crouton; the dry aged beef fillet, bourguignon and roasted bone marrow or the cod, tiger prawns, charred leeks and caviar veloute.
What we did try however was the wild mushroom and fine herb risotto (£15.50), the OH's choice, and the guinea fowl supreme, heritage carrot, pistachio and hispi cabbage (£17). The mushroom risotto was exactly what you wanted it to be; full of savoury mushroom flavour and oozing with cheese, the herbs really added a freshness to the whole dish.
I had the guinea fowl and the pistachio crust not only looked great but the flavour it added to everything else was delicious. Most unexpectedly the hispi cabbage had been mixed with ginger and despite not being a huge fan of ginger I wolfed it down. The sweet purple carrots and butternut purée with the perfectly cooked guinea fowl and the richest jus were balanced so well with the slight fiery flavour of the gingery cabbage.
Desserts
After a little interlude it was time to look at the dessert menu and, lo and behold, I didn't know what to try! I was extremely tempted by the roast figs, crème mousseline and puff pastry and the apple and blackberry pie. But then I saw there was quince on offer and I had to have it. The OH ordered the dark chocolate fondant, salted caramel ice cream and popcorn (£7.50) and I opted for the vanilla panna cotta, quince compote and coconut straw (£7.50).
When the fondant arrived at the table I feel like the description had undersold it somewhat. This was no ordinary salted caramel and chocolate get up. The best way to describe what came alongside the fondant would be like a giant Twix or Mars bar; biscuit at the bottom, salted caramel ice cream on top all wrapped in thin dark chocolate and topped with popcorn. It tasted as good as it sounds yes.
The coconut straw that came with my panna cotta was sort of like a sweet, skinny cheese straw using coconut rather than cheese. Also atop the panna cotta was a dried, thin slice of quince which I really enjoyed. At the bottom of the glass was the beautiful, glowing quince compote. I've no idea how Gert (the head chef) managed to keep it so pink, mine always turns brown! The slightly tropical flavour of the quince with the creamy panna cotta worked really well together.
We were pretty full at this stage but still managed to squeeze in these lovely little cakes. You can see from the above picture what the Bistro is like inside. The tables are spaced just far enough away that you can't overhear anyone else but close enough together to create a nice atmosphere. Everything is decorated tastefully and boldly at the same time; oversized ceiling lights and huge wall paintings are the name of the game.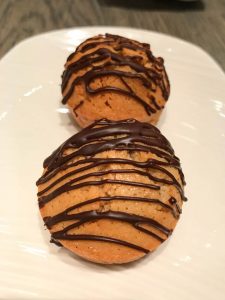 What most struck me across this menu is that you know exactly what time of year it is by looking at it. There's apples, blackberries, quince, carrots, mushrooms and so many other ingredients that are all in season right now. I really loved how these seasonal ingredients are being used and celebrated and some of the ingredients are from Inglewood House itself. The quality of the food served at Blandy's Bistro along with how the food is presented means you know you are somewhere special. A good atmosphere, a good drinks menu (including some local beers) and a regularly changing menu means I will certainly be going back.
This meal was paid for by Blandy's Bistro, thank you to them. All opinions and words expressed are my own. Prices correct as of 9.10.18.