If you've ever been to Cornwall you'd have been hard pushed not to see, smell or try a Cornish Pasty. And a proper pasty is a serious business, don't even think about adding peas to the classic recipe, it's unforgivable. The classic mix of beef, potato, swede and pastry is hard to beat and I recently found out there's such a thing as Cornish Pasty Week! If you ask me that's a great excuse to eat as many pasties as possible between 25th February and 3rd March. The week culminates with the World Pasty Championship which takes place at the Eden project on 3rd March.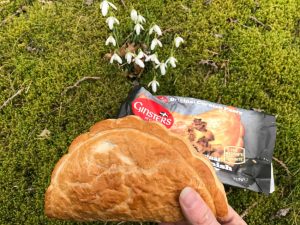 I became aware of Cornish Pasty Week when Ginsters got in touch to let me know about it and to see if I would like to try out their Original Cornish Pasty. I know how serious a proper pasty is, I married into a Cornish family you see, so I was looking forward to finding out more about their pasties.
First things first, let's point out the obvious. It is much easier, less messy and far quicker to buy a pasty that's ready made. I was really pleased to see the ingredients that go in to each Ginsters pasty are all ingredients that I recognise, no surprises in there, and that they use British beef.
The taste and texture of the pasty are all very familiar and they stick to the traditional mix of potato, swede and onion which I really liked. We took a couple of pasties out on a picnic to have cold and they were perfect for a blustery walk. They are best served hot though, not microwaved but baked, so after baking one at home and I have to say it was even better. The pastry turned all flaky and golden, the filling was steaming and it brought back happy memories of freshly baked pasties in Cornwall.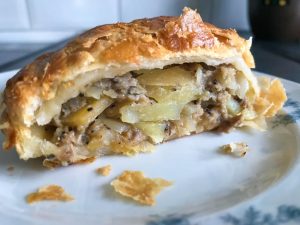 If you want to try making your own pasty ready for Cornish Pasty Week then I have a great recipe (see pictures below); approved by my Cornish grandmother-in-law and everything. Ginsters sent me through some information about their pasties and some facts about Cornish Pasty Week, I've picked out my favourite facts below:
Pasties were popularised by the Cornish miners taking them down the mines; the pastry around the edges meant they could hold the pasty without getting it dirty.
Geoffrey Ginster started making pasties in Cornwall in 1969 and they are still made in Cornwall today. They sell 800,000 pasties a week!
The pasty achieved PGI status meaning you can't call it a Cornish pasty unless it's made in Cornwall to an approved recipe.
Hoggan is the Cornish word for pasty.
The Cornish rugby team suspend a giant pasty above the bar if they are playing an important game.
If you've got any plans or recipes for celebrating Cornish Pasty Week I'd love to hear about them!
This is a featured post and I was reimbursed by Ginsters for my time to write all about pasties. All opinions and words are (as always) my own. Thank you for supporting the brands that support me.