We went for a long weekend in North Yorkshire to start exploring more of this beautiful part of the world. Yorkshire is rather large you see: with two of the UK's National Parks in Yorkshire (The Yorkshire Dales and the North York Moors) and two others really rather close (The Peak District and The Lake District) there's rather a lot to get through. And that's only the parks. There's towns, cities, villages, museums, galleries, food shops and all sorts to keep you occupied.
If you've never ventured to Yorkshire I would recommend definitely stopping in York, Harrogate and Whitby. All wonderful in their own way to wander around. Scarborough too is a fantastic seaside town which makes you feel like you've stepped back in time. This time however we were headed to North Yorkshire to meet up with friends and do a little exploring.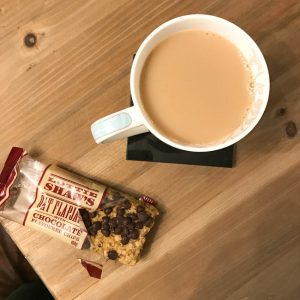 Our base was a beautiful converted chapel in the village of Bellerby and it was a great location; easy to head out for a walk or jump in the car and head somewhere. But before we reached our final destination there was somewhere we needed to stop first.
Saltaire
Saltaire is just north of Bradford and if you're passing anywhere near you really should stop and take a look around. It's a village with a significant history; when it was built in Victorian times everything was designed be in a consistent Italian style. All the buildings from the mills, housing and public buildings are unified and exceptionally still in tact. The most impressive of all the buildings is Salts Mill.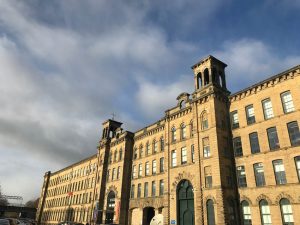 When we arrived in Saltaire and parked up there was a little drizzle in the air and it was bitingly cold but we forgot about that pretty soon after arriving. We walked towards Salts Mill and the huge building almost appeared from nowhere! In the picture it looks big but in reality it is absolutely massive. As we walked in I didn't know where to look first; on the right they were showing a film about Saltaire during WW1, the entrance hall was impressive in its own right and to the left was a huge gallery come art and book shop.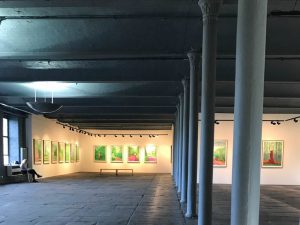 Thus far it was looking good. We climbed stairs to different floors of the mill and every floor had something different going on. One floor had a coffee shop and restaurant, another floor had a homeware shop full of everything you could think of, there was a bike shop outside on the ground floor too. Most wonderful of all though was the floor dedicated to a permanent exhibition of David Hockney's work. Then after that was an exhibition about the people who worked at Salts Mill including some of the machinery they used and some amazing photographs of the workers.
Oh, did I mention, Salts Mill is completely free to go to. You'll be hard pushed not to grab a coffee, a bite to eat or a new book though.
Bellerby and Leyburn
From our holiday home in Bellerby it was very easy to walk to Leyburn. It's a great little town with everything you could need; apparently they have a market each Friday but unfortunately we missed that. The road between Bellerby and Leyburn has some fantastic views over the moors. Once you're in Leyburn there's plenty of choice of pubs and cafes for a little bite to eat.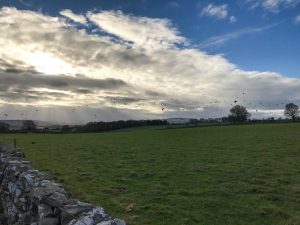 Somewhere else nearby that I would have liked to visit, but ran out of time to, was the Wensleydale Creamery. I would have liked to see them making the cheese, and more importantly try and buy some Wensleydale. We did manage to fit in some excellent treats from Lottie Shaw's, the chocolate flapjack you can see at the top is the best!
Fountains Abbey
Fountains Abbey and Studley Royal Water Garden are run by the National Trust. This means two things: excellent signposting and maps and massive hunks of shortbread are guaranteed. Did you know that Fountains Abbey is the largest monastic ruin in the country? There's a great walk you can do around the whole estate taking in the abbey, water gardens, the deer park, Fountains Hall and Mill. There's a little museum in Porter's Lodge too.
I liked the little room they had showing all the natural materials gathered from the estate used to dye wool; you can attend a class and make your own if you book in advance. It takes a good few hours to walk around the whole estate and gardens, and to stop for a cup of tea and some shortbread of course.
On the way back we stopped at the Black Sheep Brewery in Masham. We were too late to do a brewery tour so instead we did the only sensible thing we could do; head straight to their bar for some beers. An excellent way to spend an afternoon if you ask me!
I like to think I've made a somewhat decent dent into all the places to see in Yorkshire but there are still so many places left! Visiting Saltaire and Fountains Abbey did mean I could cross another two UK UNESCO sites off my list: 13 down, 12 to go!