I think being in connection with the seasons is hugely important. When it gets dark in the evenings and the mornings are gloomy and grey it can be hard to see the different colours, the natural changes and shifts that happen at this time of year. Last weekend we headed down for a Shepherd's hut weekend getaway to the New Forest and it was just what I needed.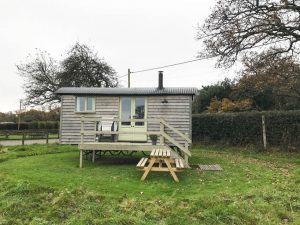 Stay
The Shepherd's Huts are the perfect size for two and contain everything you could possibly need for your stay; except (and I think importantly) a television. You spend your time tending to the wood burner in the corner, listening to the radio, reading a book and just completely relaxing. At the huts we stayed in in Fritham there is no light pollution and it is so quiet; a real and proper escape.
The Shepherd's huts themselves are behind the gardens of The Royal Oak pub in Fritham which serves ploughman's and soups for lunch; what more could you need. I find many pubs in this country describe themselves as having friendly locals and it's rarely actually true. Unless you count being stared at by the regulars when you walk in and the whole place going quiet. However, The Royal Oak is actually genuinely filled with interesting local people; some of them will come and sit at your table, some will have a chat at the bar and the staff at the pub are all great. Oh and there's loads of local beer and an extremely old fireplace. And live music on Friday nights. It's the pub that everyone wants to have as their local.
Visit
With our base in the village of Fritham it's an ideal location to walk to other villages in the New Forest; there's one in every direction. We chose to walk to Nomansland through the forest and were  surrounded by browns, oranges, reds, greens, yellows, mushrooms, mosses, ponds, puddles, tree stumps and every imaginable bit of autumn.
The Lamb was where we ended up for a quick morning coffee; the pub is so full of different things on the walls! Our coffee turned into lunch and we filled our bellies with steaming soup (a rather tasty, smoky tomato and pepper) before embarking on the walk back.
Eat
For dinner, the huts are equipped with a little electric oven and hob and you can order food cooked by Jenna, the landlord's daughter. And you will want to. I love how it's proper, home-cooked, full of flavour and so filling.
On the first night we had individual beef and ale pies, new potatoes, green beans and carrots. Then chocolate brownies, raspberries and ice cream. On the second night we had Shepherd's pie with peas and carrots and then meringues with forest fruits and double cream. It's just the comfort food you need at this time of year, and it is all delicious. A little bit of redcurrant jelly in the pies, a dollop of mint sauce in the shepherd's pie; just brilliant.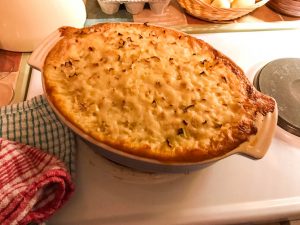 Top Tip
This is the perfect place to read that book you never got round to, finish that project you started or just sit and have a cuppa next to the fire. As I said there is no television and no Wifi but that is a good thing! You might spend your time mesmerised by the fire, playing cards and listening to the radio; busy doing nothing. As someone who rarely gets a chance to do nothing I made sure I immersed myself fully in the opportunity to do so.