This is, probably, one of my absolute favourite meals I have ever made. Not only does it look glorious (excuse self-praising) but it is absolutely delicious. A vegetarian fish and chips if you will; a real rival to that classic seaside dish using halloumi instead of fish. With my recipe there is no crispy batter, however, the outside of the halloumi gets all crispy and wonderful so you really don't miss it. Plus, as there's no deep fat frying involved it's much more suited to a weeknight dinner as there's no faffing around.
Ingredients
You will need (for two):
4-5 red skinned potatoes, cut into wedges
Oil for roasting (I use rapeseed)
Salt and Pepper
400g frozen peas
1 tsp dried mint
1 tbsp butter
1 block halloumi, sliced (I used High Weald Dairy's Organic Halloumi)
Method
Put the potatoes into a pan and cover with cold water. Add a pinch of salt and bring to the boil. Boil for 5 minutes and then drain well.
Preheat an oven to 180C.
Drizzle over a good glug of oil and some salt and pepper and mix everything together well. Tip onto a baking tray and roast for 40-45 minutes until golden brown.
While the wedges are cooking make the mushy peas. Bring a pan of salted water to the boil and tip the peas in. Bring the pan back to the boil and cook the peas for 2-3 minutes then drain.
Mash the peas with the mint, butter, a little salt and plenty of pepper. You can mash to the texture you like; I like to leave mine a little chunky.
Get a frying pan onto a medium heat and add the halloumi slices. Dry fry on both sides until golden brown and crispy.
Serve everything together along with some malt vinegar and lemon wedges.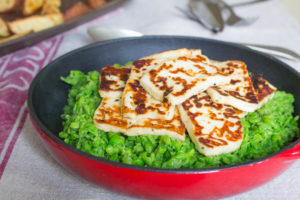 The saltiness of the halloumi with the sweetness of the peas; the mint in both ties them together perfectly. A little squeeze of lemon over the halloumi to give it a bit of zing. Soft, fluffy potato wedge middles with golden, crispy outsides slathered in malt vinegar and unceremoniously dunked in tomato ketchup. All the textures, all the flavours. Honestly if you're a fish and chip aficionado I challenge you to make this and not enjoy it. Happy, happy days.