This was a gifted meal.
I do love Winchester as a city. Compact, historic, quaint and with just about everything you could need (including a fantastic tea shop) all in one place. At the bottom of the main high street there's a subtle, unimposing restaurant called No 5 Bridge Street and we were invited for dinner. I have been before, the menu was completely different a few years ago, so I was looking forward to seeing what had changed.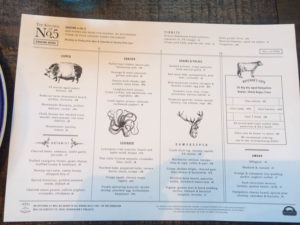 Normally when I'm perusing a menu a few things will jump out at me and then I'll whittle them down to what I will order. Not here. I wanted everything, absolutely all of it, I just couldn't choose what to try because it all sounded so good. Fortunately the menu is designed to be a big sharing menu which helped but even then it was hard to choose which six to try first! Think of it like tapas but with plates inspired from all over the world: Japan, India, America, Britain, France and all sorts of other places. Just some of the things I picked out at first glance were: croquettas, crispy pork belly, beetroot hummus, jamon, hot smoked trout, charred leeks, stuffed courgette flowers, parsnip tart tatin, pulled beef sliders, lamb tagine, poached hake, dahl, smoked polenta, gnocchi…the list goes on and that doesn't even include the specials.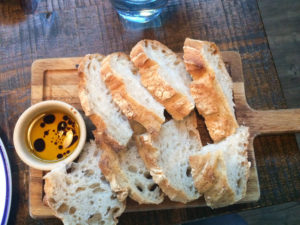 We managed to choose some to start with, thinking we could try a few more if we had room. The shortlist is all below, and yes, we did find room for a few extras later on.
Salmon and Wild Garlic Croquettas (£4.50). The croquettas change regularly, this was the combination on offer when we went. These weren't your ordinary mashed potato croquettas, oh no, they were thick with bechamel with flakes of salmon and sparkles of wild garlic throughout. I honestly could have just eaten these all night and been so happy, but I would have missed out on so much more.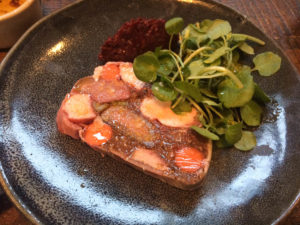 Pigeon, Guinea Fowl and Black Pudding Terrine (£7). I loved the texture of the carrots in this, they were still crunchy which was such a good contrast against the meat and black pudding. It worked really well with the rhubarb and beetroot compote and some peppery watercress.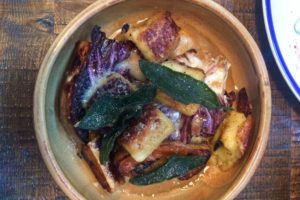 Parmesan Gnocchi (£8.50). There is a chance that this was the dish of the meal for me. It was delicious and just the comfort food needed on a chilly evening. Soft, lightly fried Parmesan gnocchi alongside roasted, slightly smoky squash, chicory for added bitterness, a cep veloute to bring everything together and a few crispy sage leaves on top.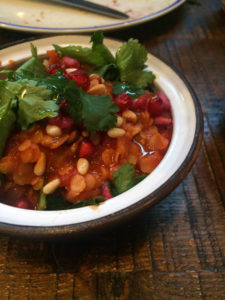 Red Lentil Dahl (£6). This was a great dish to bring some lovely freshness and vibrancy to the meal. Full of zingy tomato flavour the fresh coriander and pomegranate seeds really lifted the dahl and it was just the right level of spiciness for me.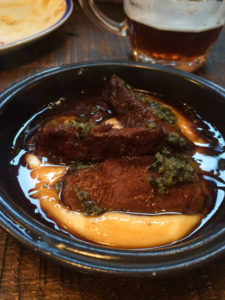 Iberico Pork Cheeks (£9.50). I don't know what they did to these pork cheeks but they were just brilliant. Unctuous, savoury and melt in the mouth. Scooping them up with the polenta and salsa verde was such a pleasure. This is what I would like to cook at home, but I know it would never have that same depth of flavour.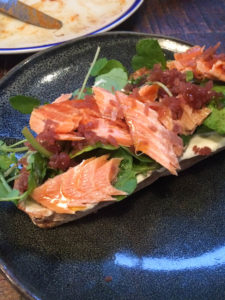 Chalk Stream Hot Smoked Trout (£8). This is also a contender for best dish of the meal as it contained pretty much all of my favourite things in one. A crusty piece of bread covered in mascarpone and wasabi, topped with hot smoked trout and red wine shallots. It was a really generous portion and so full of colour and flavour. I loved this.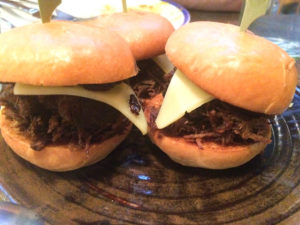 Pulled Beef Sliders (£10). The OH is often hard pushed to say no to a burger so we had to try these little sliders. I really liked the sauce on the pulled beef, it wasn't overbearing so you could taste the beef. Coupled with some bacon jam and a little monterey jack cheese they were lovely.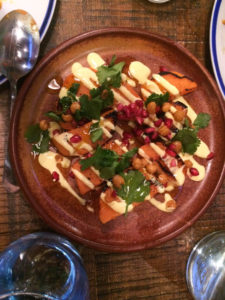 Charred Sweet Potato (£6). Now I don't usually like sweet potato so I was interested to try this. Turns out, I do like sweet potato, especially when charred as it has a great smoky flavour. Covered with saffron yoghurt, coriander and chickpeas this was clean, vibrant and a brilliant veggie choice.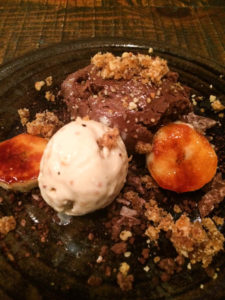 Dark Chocolate Mousse (£7). I have to admit that I was pretty full at this point and not sure I could fit in a pudding, so we shared one. The chocolate mousse was served alongside caramelised banana, peanut butter and a milk ice cream. It was balanced really well and I loved the way they served up such a classic combination.
In case you can't tell, I really, really liked this meal. I love how many different cuisines have been pulled together on the menu and there are so many different choices. The dishes all come at different times so you can sit back, relax and wait for things to arrive and eat them at your leisure. The menu is divided into sections, ordering something from each section would be a good place to start: tidbits, cured, botanist, grazier, seafarer, grains and pulses, gamekeeper, butcher's cut and the specials and desserts. The drinks list is good too, different wines and cocktails to choose from and some great soft drink options.
We shared eight plates plus some bread and I think we were a bit greedy, six would actually have been plenty and left a bit of room for pudding. They have some good deals on the sharing menu during the week; for example on Wednesdays you can share five veggie plates and a glass of wine for £15pp or on Mondays all the dishes are £7. Worth looking into I'd say! I can't wait to go back.
This meal was paid for by No 5 Bridge Street, thank you to them. All opinions and words expressed are my own. Prices and weeknight offers correct as of 24.5.17.