I live in a village and on first appearances it has all the qualities of somewhere straight out of Call The Midwife. Actually living there is quite different; people don't know each others names, good luck trying to get them to take your bins in for you and there's so much material competition it's like a car forecourt out there. Of course there are exceptions; one of which is the white house on the corner. They have a Bramley apple tree and although (this year especially) they don't get many apples from it they always put a box of windfalls outside their gate for people to take. I helped myself to one of their apples and set about making some Bramley apple and nut flapjacks.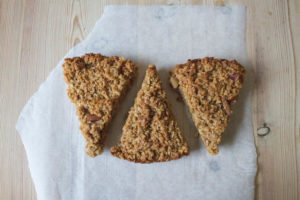 Ingredients
You will need (for 8 big flapjacks):
200g butter
175g light muscovado sugar
70g golden syrup
70g honey
350g rolled oats
1 Bramley apple, grated
75g mixed nuts, roughly chopped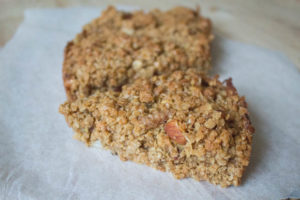 Method
Melt the butter, sugar, syrup and honey together in a large pan over a low heat. Make sure it's all mixed together well.
Add the oats, apple and nuts to the butter mix and stir together to ensure everything is coated in the butter and syrup.
Preheat an oven to 160C. Tip the flapjack mix into a tin.
Note – I used a round, silicone 'tin' so I didn't need to grease it but if you're using a metal one you might want to lightly grease it before adding the flapjack mix. The larger the tin you use, the crunchier the finished flapjack so choose your tin on your flapjack preference!
Bake the flapjack for 30 minutes. Remove from the oven and mark into pieces. Leave to cool before removing from the tin.
Originally I wanted to make these flapjacks with cobnuts (wild hazelnuts) but there don't seem to be many around this year, or the squirrels have got to them all. If you do have some of your own I think they'd be fantastic added to this mix. These flapjacks are perfect at this time of year; they are so autumnal I couldn't imagine making them in any other month. The Bramley apple adds a little bit of sharpness and a slight cakey texture and the mixed nuts bring a delicious crunch; the ones on the top get lovely and toasted during baking too. If you don't have a village supply of Bramleys to help yourself to, there are plenty of wild apples around at the moment which would certainly be worth a try.