It's a funny time of year at the moment. I'm not sure whether to make myself a cold drink and sit outside or have a nice cup of tea and snuggle down on the sofa. Luckily enough with the bits and bobs I've been trying for this month's 'New in the Kitchen' I have had all sorts of things to try no matter what the weather!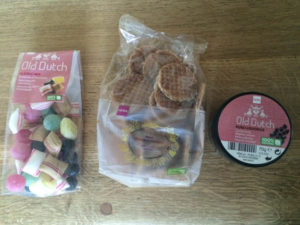 First up I tried a selection of Dutch treats and sweets from Hema. The bag of multicoloured sweets are called Old Dutch and were made up of hard and soft sweets in all sorts of flavours; notably cinnamon, raspberry and cream. They were quite intense to start with and then mellowed; I wasn't that keen on the cinnamon (but that's a personal cinnamon thing) but I enjoyed the others. There were also stroopwafels, which I really like, and these had a bit more spice in than some others I've had before; great with a cup of coffee. The last thing was a little tub of liquorice; full of tiny squares of deepest liquorice this is not for the faint hearted! It's really intense, even just one square, but if you like your liquorice strong this is the one for you.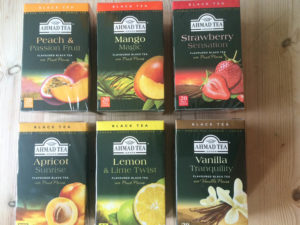 I didn't know before trying Ahmad Tea that it's a British company. The fruit teas actually contain pieces of fruit, or in the case of the vanilla tea, vanilla pod which really adds to the natural flavours. My favourite two were the vanilla black tea and the mango black tea as iced teas; the vanilla being sort of iced tea meets cream soda and the Lemon and Lime is a great flavour for the morning. The teas themselves don't contain added sugar so you can almost trick yourself into thinking you're having a sweet drink when you're not.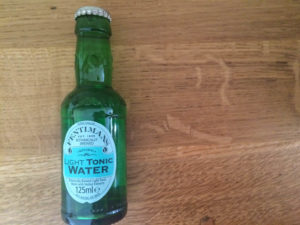 Although adding gin makes for a more interesting tonic I actually quite like tonic on its own. Especially on a warm day with a sprig of mint and a slice of cucumber. I particularly like Fentimans Light Tonic Water as it has all the flavour, less sugar and no nasties. I really like the Fentimans branding and that they still make their drinks using the same methods they always have. I've got my eye on their new Jasmine & Lime; I'll be keeping my eyes peeled for that one!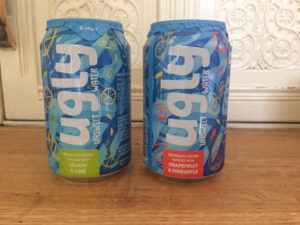 As I mentioned in my last post, I find it hard to find an adult soft drink that isn't full of sugar. Well, I've found some more from Ugly Sparkling Water. They've added natural fruit flavours (with no sugar or sweeteners) to sparkling water and it's really refreshing. I try to drink plenty of water but sometimes it does get a bit boring so the two flavours I tried: Grapefruit and Pineapple and Lemon and Lime made things a bit more interesting.
Thank you to Hema, Ahmad Tea, Fentimans and Ugly for the samples. All opinions expressed and words are my own.