Freezer roulette, UFO night (unidentified frozen object) or whatever you call it when you select and defrost a frozen item of interest for your dinner can result in complete success or failure. I know there are those of you with very regimented and organised freezers who don't have this issue but I know plenty of people who have chosen what they think is a delicious beef stew for their supper only to find out it used to be a chocolate gateaux. This recipe is for you; those freezer lovers who froze the summer's berries in order to make the most of them at a later date. My frozen blackcurrant cordial recipe could easily be made of whatever berries you have; although probably best check that they are in fact berries and not spaghetti bolognese.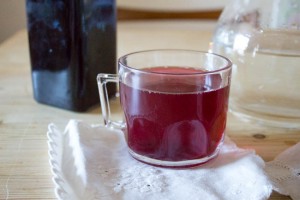 Ingredients
You will need (for just over 300ml):
500g frozen blackcurrants or mixed berries
1 lemon, zest and juice
200g sugar
250ml water
Method
Put all of the ingredients into a pan on a low heat, cover with a lid and bring slowly to the boil stirring occasionally to dissolve the sugar.
Using the back of a spoon or a potato masher, squish and squash the berries to get all the juice out. Bring back to the boil with the lid off.
When done, strain through a muslin into a sterilised container then keep in the fridge until you're ready to drink.
My mixture above filled my bottle right to the top and I had to put the extra into a jug to use up first so it may yield slightly more or less depending on the ferocity of your squashing technique.
The flavour of the cordial is probably more subtle to the blackcurrant cordials you can buy readymade but this one only has four ingredients, all of which you can choose yourself and know where they come from. The colour is gloriously rich and dark and you don't need a lot to get the sweet, delicate flavour so it lasts quite a long time. I was pleasantly surprised how easy it was to make this cordial myself and I bought the berries from a local farm shop where 500g cost me just less than £2. Add a bit of sugar, water, lemon mix it all with a bit of heat and job done. Before you ask, yes I have tried it in a gin and tonic and it's delicious with a slice of lime.