This was a gifted stay and meal.
Even though I have lived in Berkshire for most of my life I have only been to Windsor once when I was much younger so I don't remember it at all. I like to go to new places and towns and find out what they're all about and when Mercure hotels got in touch to see if I would like to head off for a weekend in Windsor I was really looking forward to it. We were so lucky with the weather; a lovely sunny autumn weekend and I think I managed to see as much of it as possible in the time I was there.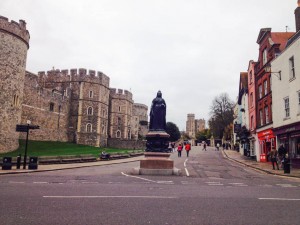 We arrived at the hotel and dumped our bags in the room, after a quick look around, and headed out to explore Windsor. This might sound a bit ridiculous but I was not expecting Windsor castle to be as immense as it was. I mean I knew there was a castle there and I knew it would be impressive but I did not anticipate it being absolutely massive. Apparently it's the largest and oldest inhabited castle in the world (don't say I don't give you any fun facts). Windsor is generally just a very pretty place; even the train station is lovely. Although there are two train stations which can really make you question your bearings until you realise they have slightly different names.
First and most importantly we needed to find some lunch. After wandering from Windsor over to Eton for a look at the college it was a bit of a struggle to find somewhere that was independent and not too pricey. I imagine now there will be plenty of, "Oh I should have gone there" moments but we settled for a little pub (I can't remember the name) and shared a baked Camembert which can never be a bad thing in my eyes.
I had taken advice from the lovely lady in Tastes Deli who said that The Chocolate Theatre had some fabulous homemade cakes that were well worth a try. I loved The Chocolate Theatre; it was busy, neat and ever-so-charmingly chaotic at the same time. It seemed to be a very popular haunt for road cyclists; I think because they can lock their bike up, sit outside and gorge on calories with plenty of other cyclists. I love a café which offers about twelve different types of hot chocolate; white, milk, dark, orange, mint, nutmeg, liqueur, double chocolate you name it, you could drink it. I didn't try one as I really wanted a nice cuppa and a bit of cake and the choice of cakes was mind boggling. Big well done to the staff who have to remember what is on offer on a constantly changing menu! My milk chocolate tiffin was just what I needed, the coffee and walnut cake was probably the best example of such a cake as I've ever had.
After another wander around to walk off the cakes and stumbling upon a fantastic vintage clothes shop where I went a bit crazy and apparently bought everything brown we went for cocktails. Naturally. There didn't seem to be anywhere independent, I was after a wine bar really, that we could just sit and wait for the evening to develop so we ended up in a chain (All Bar One) in the train station. I had some sort of gin and berry mash up which I find is always a welcome way to start an evening. We then progressed to a local restaurant and sat down for a slurp of wine before returning to the hotel to get ready for dinner. I make it sound like some sort of bar crawl; the cocktail and wine took about three hours.
The hotel restaurant is Windsor's only three rosette restaurant and I'd had a look at the menu earlier in the day and was really looking forward to trying it out. I had some really nice (and very importantly) slightly warm tomato bread to get going and ordered myself a glass of unoaked Chardonnay. The OH also had some brown bread and a glass of Shiraz. It's not that often that we both get a glass of wine and both like what we ordered as well as liking what the other one has. I was really impressed with the wines and I thought there was quite a big selection by the glass.
It's also not that regular of an occurrence where I can't choose what I want to order. I could have happily eaten anything on the set menu but I settled for the Smoked Salmon with Crispy Capers and Watercress to start. It was light, flavourful and the crispy capers gave it a lovely texture. I thought it could have done with a little grated egg or a bit of bread, but then I am greedy. The Duck and Port Parfait with Cranberry Chutney and Toasted Brioche looked fab on the plate and the flavours worked really nicely together.
My main was Corn Fed Chicken Supreme, Savoy Cabbage, Creamed Potato, Smoked Bacon and Pea Jus. It sounded like exactly what I needed and it tasted just how I wanted it to. I have to say that this was so good it will go down as one of those dishes I will remember for a long time. It's a classic combination of flavours but when it's done to perfection it cannot be improved. I don't know what they did to that cabbage but it was fantastic. Soft, smoky, salty and just wonderful I can taste it now and I am craving a bowl full of it.
The OH ordered Pork Loin Steak with Hand Cut Chips, Baby Onions and Grain Mustard Jus which again was a set of flavours and textures that you just know will work together. It was good; especially being able to dunk the chips (sort of rectangular roast potatoes I suppose) in the gravy was very enjoyable. The pork was slightly overcooked but other than that it was just as you would want it to be.
I was a bit unlucky with the puddings when I was there; unfortunately ginger in cakes and tiramisu are two puddings I really dislike so I was on the sorbet! There was quite a selection to choose from so I went for; milk, blueberry and green apple. All very nice but the milk was my favourite. The OH went for the cheese which I was more than happy to steal bits of. Our dinner (excluding drinks) was included in our room rate but was from the set menu of two courses for £20, three for £25.
The next morning we walked down to breakfast with the smell of bacon, toast and coffee wafting up the stairs; is there a better smell to wake up to? I really liked the breakfast and that you could order your eggs differently if you didn't want them scrambled, as well as a host of other breakfast options like eggs benedict and kippers. I am a bit of a greedy guts at a breakfast buffet (who isn't) and I thought the quality of the food was much better than other hotel breakfasts I've had. A cooked breakfast, a nice pot of tea and some fruit really sets one up for the day.
We had one final wander around Windsor before coming home. The room we stayed in had a comfortable bed and all the bits and bobs you'd like in a hotel room; all manner of bathroom and grooming gadgets, a complimentary newspaper (I don't get the paper at home so this is always a novelty for me!), amongst other things and it was good and quiet. I was a bit sceptical of having dinner in the hotel as I really wasn't sure what to expect but I was really impressed and it will certainly make me think twice about checking out hotel menus in the future. I'd like to go back to Windsor especially since reading this post about what to do in Windsor. I think I'd like to go again in the summer so I can go on one of the boat rides in the warm sun.
Dinner, drinks, bed and breakfast was paid for by Mercure. All opinions expressed and words are my own.
This hotel is now under new ownership since this post was published.