When I was in Bruges last year there were a few foods that cropped up on almost all of the menus: moules, frites, waffles and croques. There was one caf
é
 which we went to more than once because their croques (monsieur, madame and various takes on these) were so good. It was something like €8 for one croque and salad but €10 for two croques and salad; a no brainer really. One of the croques they served was full of ham, cheese and tomato then served with a gargantuan amount of bolognaise on the top. Very handy when you want to be full for an afternoon of taking in the culture, or more accurately, beer tasting. Apparently.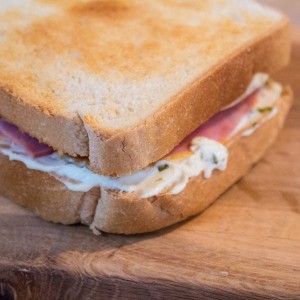 ingredients
You will need (per croque):
2 slices thick white bread

2 slices Emmental cheese

2 slices smoked ham (not wafer thin)

A few slices tomato

Cream cheese with herbs
method

Preheat a grill and toast the bread. Spread a nice thick layer of cream cheese on one slice.
Put the Emmental on the other slice. 
Top the cream cheese with the ham then the tomatoes and place both slices under the grill.
Keep the toast under the grill until the tomatoes are hot and the cheese has melted and started to bubble. 
Stick the slices together, cut up and serve.
If you have a sandwich toaster you can of course use that but sadly I don't have one of these handy contraptions. A Corby trouser press would work equally well.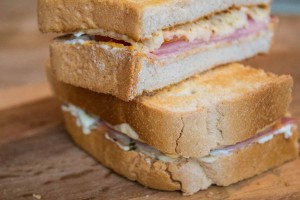 This was a pretty good imitation of what I remember it tasting like. I think the quality of the ingredients I used was a little higher than those I remember so it lacks a certain chewy quality but as something a little different for lunch or for a quick and light dinner you could do much worse. A nice fried egg on top would be a lovely addition.