We sat at my laptop around two weeks ago trawling the internet for some holiday inspiration. None came and so we adopted the 'let's just book whatever leaves next week' attitude; a method I will most certainly be using again. We booked a three day trip to Bruges, getting there by Eurostar with a small a bag as possible (well, I still needed everything ever) and it was fantastic. There was plenty of chocolate, beer, waffles and sightseeing.
We had a great little guide book to the city and based our trip around that. Our hotel was a five minute walk from the station and about ten minutes from the city centre; to get to the centre was either through a park or cobbled back streets, each equally as picturesque.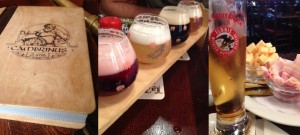 One of the places I really wanted to visit was Cambrinus; a wooden and stained glass window bar which serves 400 different beers. I didn't think I liked beer, after my trip to Bruges it turns out I do. We managed to sample 20 different beers between us in three days; good for the taste buds, bad for the belly.
The picture above shows the massive beer menu (left), the Delerium tasting beer selection (middle) and a passion fruit beer (right) with cheese and meat that you can order to nibble on.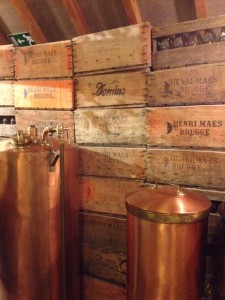 Another place worth a visit was De Halve Maan; the only remaining place in Bruges which still brews its own beer. It was interesting to learn about the history of beer making, how the method has changed and to get a 365 degree view of the rooftops of Bruges. Not a tour for the fainthearted, there are a lot of very steep steps!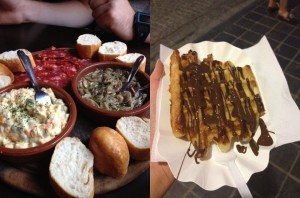 There were so many cafés, bars and restaurants to try it was hard to know where to start. We hoped we would be able to go to one for lunch then one for dinner but annoyingly they were either closed for their summer vacation or were only open for dinner.
We found a brilliant place called Vino Vino down a backstreet which served really good (and reasonably priced) tapas. The picture above (left) comprised: chorizo, finely sliced mushrooms in garlic, warm bread and a potato, pea and carrot salad. That little board, some jazz in the background and a nice shandy went down a treat.
It would have been rude not to try a waffle, the smell is so tempting and they are unbelievably filling.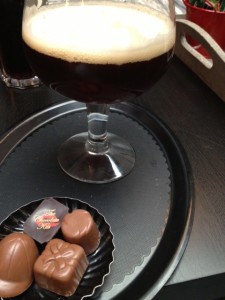 The beer and chocolates above were from a shop come boudoir, again down a backstreet, called The Chocolate Kiss. They serve chocolate beer and chocolates in the shop and you sort of sit in their lounge to eat and drink it. A bit of an odd experience but very tasty.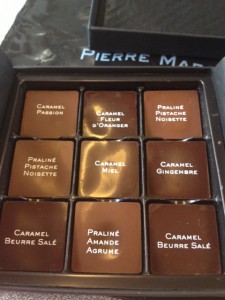 Sadly all good things must come to an end but fear not. I had managed to find the Pierre Marcolini chocolates I had so desperately wanted to get and treated myself to the above tasting box for the journey home. There wasn't anywhere I went that I wouldn't recommend, Bruges had a very relaxed atmosphere and everyone seemed very proud of their food and service. Somewhere I would very much like to go back to.