I love a trip to Winchester; I always forget how big and yet small it is. That sounds a bit weird but I always forget about the other smaller roads that come off the main street that house some great independent shops and restaurants. We walked past No 5 Bridge Street on our way in and I thought it looked nice and suave, we went back around lunchtime to check out the menu and it all sounded great. The kind of food I wish I could be bothered to cook at home and here it all was, ready to eat. Lots of local produce on offer it was hard to know what to order. 
You have to check out the below menu
 because it looks and sounds great. Nibbly bits, light meals, mains and grills all full of potential.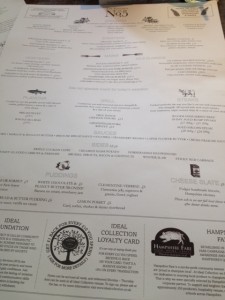 I really liked the layout and decor in the restaurant; I wish I'd got a picture but there were too many people around as it was absolutely rammed. When a restaurant is full of people it's normally a good sign. The other thing I really liked was that you could reserve a table, but, if they were all booked there were plenty of tables in the bar areas. The staff were all very nice, if not a little rushed, and we sat down to peruse the offerings.
Sadly for us, and our wallets, potential was all there was. The presentation of the below bread with dukkah, olives and rapeseed oil was lovely. The experience of eating it, not so much. If you're serving bread with thick crusts, I think the crusts have to be crusty rather than chewy. I also think the bread should be a little bit warmed. This bread was dry and chewy. The dukkah was very nice as were the olives.
The falafel smelled fantastic and it looked good. Unfortunately the chickpeas were either not soaked or cooked for long enough or were too chunky because the flavour was quite raw and a bit unpleasant. The hummus was excellent.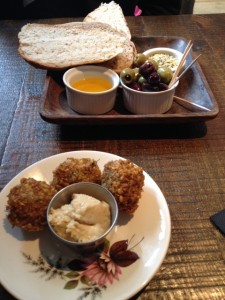 I have a bit of an issue with barbecue sauce; I only like some of them. I love pulled pork and the sound of 'pulled pork burger, toasted brioche bun, ranch dressed slaw, our BBQ sauce and skinny fries' sounded right up my street. They were only too happy for me to have the sauce on the side which I know is a bit of an unusual ask. The portion size of the meal was actually quite small, maybe I'm greedy, but the other meal ordered (more on that in a minute) also seemed quite small. Maybe they just have really big plates.
The pork in my bun was actually a bit cold and the bottom of my bun really soggy. It seemed like all the pork in the kitchen is ready to go with barbecue sauce already on it (which makes sense) and when my request came in they washed it under a tap and didn't dry it very well. The whole thing just got soggier and soggier as I ate it. I did like their barbecue sauce (I know I'm picky) so ended up putting some of it on the bun after all! Ranch dressing is one of my favourites but the ranch dressed slaw didn't have much taste at all; even the vegetables. All in all, for something that sounded punchy and interesting it was actually a little disappointing. Maybe part of it was my fault but I think all the components of the meal should be equally as good as each other and taking just one away shouldn't make that much of a difference.
The other meal at the table was 'Chestnut flour suet pudding, wild mushroom stuffed, truffle mash and mushroom gravy'. You can never really make a suet pudding look good but as they go, this one looked pretty appetising. The suet pastry was overly sweet and very dry, the sweetness could have worked really well with the earthy mushrooms but it was just a bit too much. The pudding was absolutely full of mushrooms so they weren't at all skimping on the stuffing but somehow they lacked a real depth of flavour. The mash was ok and the gravy was ultimately there to act as a lubricant because it didn't taste of much either. We left disappointed which is not the feeling you want after a meal.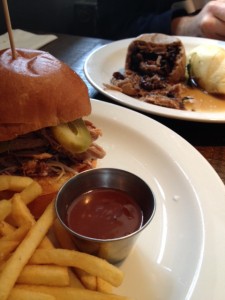 I did consider not posting about this experience but as with all my other posts I find the recipes that didn't work just as useful as the ones that did and I'm applying the same rule to this review. Some are good, some not so good. It seemed like the chef and/or owner(s) had thought of all the things they like and put them all on a menu. It's great to have the variety and choice but if they are  below average then it's not a good idea. It was expensive for what it was too. The quality was good but the portion size and expectation did not match up to the price tag. It's also very irritating when you see a table get their food before you when you know they ordered afterwards. No 5 Bridge Street is clearly very popular and on first glance I think it would hook anyone in but the food needs some serious work.