Who doesn't like a bit of cheese? Over the last couple of years I think Cheddar has been getting a bit of a bad name. Indeed 'cheddar' can be used to describe any cheese where the cheddaring process had been used to make it; hence, a piece of chewy, nasty, plastic cheese can be called Cheddar along with lovely, crumbly, exemplary artisan Cheddars.
Barber's kindly invited me to the BBC Good Food Show last year in Birmingham and I really enjoyed it. I had a good old chat to Barber's about their cheese; they use their own starter cultures to make their cheese and I was amazed at the difference each culture can make to the end flavour of the cheese. Some will give it an earthy, Marmite flavour and others will give a slight sweetness. In order to enjoy their cheese Barber's gave me all the ingredients and a recipe to make a delicious twice baked cheese soufflé.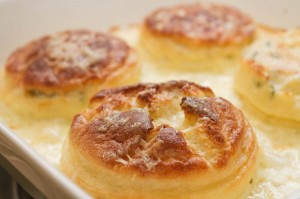 ingredients
You will need (for 6 soufflés):
225ml milk

1 bay leaf

1 shallot, finely chopped

6 black peppercorns

40g butter, plus extra for greasing

40g plain flour

125g Barber's 1833 Vintage Cheddar, plus extra for sprinkling

3 large eggs, separated

1 tbsp. chopped chives

Salt and pepper

150ml double cream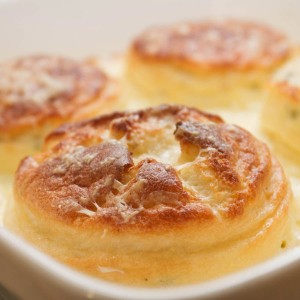 method
Preheat an oven to 180C and butter six individual ramekins.
Put the milk, shallot, bay leaf and peppercorns in a saucepan and bring to the boil then strain into a jug. I always enjoy doing this as it smells so good.
Melt the butter in a saucepan then add the flour and cook for a few minutes. Gradually whisk in the milk then simmer for a few more minutes. Remove from the heat and add the cheese before adding the egg yolks, chives and a little salt and pepper.
Whisk the egg whites until they form soft peaks then fold these into the cheese mixture. Divide between the buttered ramekins.
Place the ramekins in a bain marie (a baking tray that you can fill with boiling water so it comes half way up the ramekins). Bake for 15-20 minutes until risen and firm. Mine took a little longer than 20 minutes. Leave to cool.
When ready to serve preheat an oven to 200C and gently remove the soufflés from their ramekins and put them into an ovenproof dish. Pour over the cream and sprinkle over some more cheese then return to the oven for 10-15 minutes.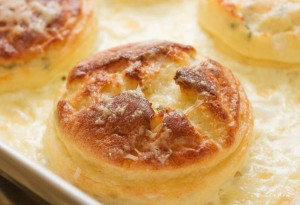 Not quite as majestic as I envisaged but they tasted wonderful. Nowhere near as complicated as I thought they'd be, cheese soufflés actually make quite a quick, cheap meal. The cheese was at just the right amount to be punchy but not overpowering and the chives gave a welcome freshness and onion hum. I have also enjoyed the Barber's in a doorstep sandwich with some nice sliced pickled onion and also amongst some other cheeses on a fine cheeseboard. British milk, British farmers and British cheese, what's not to love?
Thank you to Barber's for the cheese, recipe and tickets to the BBCGFS. All opinions expressed are my own.