I really rather like Cambridge. I've been up a few times now and I think it has to be one of my favourite cities. You're never quite sure what is going to face you round every corner; some wonderful architecture, a cobbled street, a garden or a glimpse of the river. I think part of Cambridge's charm is that so much has been discovered there and is still being discovered today. Behind every window you pass someone could be uncovering the answer to a question that has puzzled everyone for years.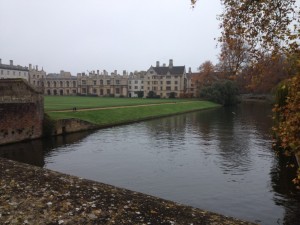 The other fascinating thing of course is the amount of famous names connected with Cambridge. The last time I was there I walked right past Steven Hawking! I have been lucky enough in the past to go 'behind the scenes' of the University buildings and over Newton's famous bridge. 
We always stay in the same B&B because it is around a 15 minute walk from the city centre but you can get there a few different ways; through some of the backstreets with the interesting shops, over the green or along the river.
After a very horrible drive up (the M25 being closed exactly where we needed to get off) and after we had deposited our belongings at the B&B we wandered into the city and ended up at The Cambridge Wine Merchants. I had a rather lovely white wine which I've completely forgotten the name of (it's also known as the white Chateauneuf du Pape) with the cheese and charcuterie board. I have to say that the portions of cheese and charcuterie were staggeringly tight; I could have inhaled it in one. Nonetheless it was nice to sit, drink, nibble and watch the world go by. 
I had booked dinner at a restaurant called De Luca as we wanted a relaxed but preferably Italian meal (it was the OH's birthday you see). This place was absolutely rammed. The kitchen is in the middle of the restaurant so you can see what's coming and going. It was all very nice; the olives deserve a special mention for not being too briny as do the pictured garlic bread balls with sunblush tomato sauce. The bruschetta was one of the nicest I've ever had with loads of fresh garlic and the tomatoes were brilliantly not cold.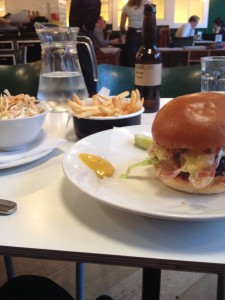 The next day, after our breakfast including eggs from the B&B's own garden, we meandered into town in search of a bit more shopping and some lunch. I was surprised to find the market was on on the Sunday and all the traders were in a different spot to where they were on the Saturday. The coffee man with the van always had a queue! Still pretty full from breakfast we had a late lunch in Byron. It wasn't immediately clear if it was a chain or an independent but after walking past another one it turns out it's the former. Really nice juicy burgers with generous toppings though that filled us up for the rest of the day. 
Cambridge has a great mixture of shops; gifts, art, kitchen, clothes, food and plenty of independents too. You're never far from a cup of tea or coffee. Having been to the (original) Fitzbillies before for one of their famous Chelsea buns I'm always on the lookout for somewhere new. We met up with my Auntie and Uncle for a nice cup of coffee overlooking King's Chapel and spent the rest of our last day wandering around and eventually ending up in The Cambridge Cheese Company shop. We were very well behaved and only came back with three cheeses; Blue Monday, Comte and something beginning with T. We had a great weekend up there and I'm looking forward to going back.