Hang on, a sausage roll that doesn't have any sausage in it? Correct. I absolutely love a proper sausage roll; when the juices run out of it and caramelise under the flaky pastry. To pack a picnic with a couple of sausage rolls and a flask of tea is to pack a fine picnic as far as I'm concerned. So what's with this vegetarian creation? My reasons are threefold: firstly, at this time of year I need pastry; secondly, I love spinach and particularly spanakopita and thirdly I wondered what a vegetable 'sausage' roll would be like.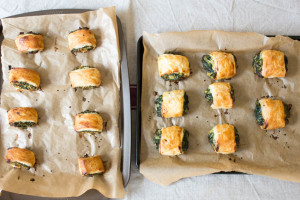 Turns out they're rather excellent. I used Laughing Cow Extra Light cheese for this recipe as it's really good to cook with and gives a nice creamy texture and flavour to the finished rolls.
You will need (for 16 mini rolls):
200g bag spinach
1 small onion, finely chopped
1 clove garlic, crushed (or 1 tsp ready chopped)
1 tbsp olive oil
Handful fresh coriander, roughly chopped
1 pack (140g) Laughing Cow Extra Light Cheese Triangles
3 tbsp breadcrumbs
Nutmeg
1 tbsp Parmesan, grated
1 egg
Salt and pepper
1 sheet ready-rolled puff pastry
Milk for brushing
Get a large frying pan on a medium heat (I find a wok works a treat) and add the spinach with a splash of water. Cook the spinach until wilted then remove and squeeze as much water out as possible. Put to one side to cool.
While the spinach cools return the pan to the heat and add the olive oil. Add the onion and fry for around 10 minutes until softened, add the garlic for the last two minutes of cooking. Once soft add to the spinach.
Remove the cheese triangles from their packaging (surprisingly satisfying) and add to the spinach with the coriander, breadcrumbs, egg and Parmesan. Grate in a little nutmeg and season with salt and pepper. Mix it all together well.
Preheat an oven to 200C and line a baking tray (or two) with baking paper.
Cut the pastry sheet in half lengthways and then spread half the spinach mix along one length leaving a gap all the way along. Pull one side of the pastry tightly over the spinach mix, press down onto the other side and squeeze the pastry together with your fingers.
Repeat for the other length of pastry then cut each length into eight. Place onto the lined baking tray and brush each one with milk.
Bake for 20-25 minutes or until golden on top. Remove from the oven and baking paper and leave to cool.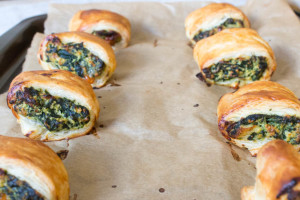 I made these on a Sunday, using up a few bits and bobs from the kitchen as I went, and took them to work for lunch over the next few days. What a nice change to a sandwich. I devised this recipe to use a whole bag of spinach because having half a bag of spinach in the fridge is downright annoying and I wanted to use up a few other things I had; an end of Parmesan, some coriander, breadcrumbs and nutmeg. They're certainly not traditional spanakopita, I like to think of them as bitesize spinach-and-cheese treats, but they're tasty, filling and great for lunch slightly warm and served with a tomato salad.
This is a sponsored post and I was reimbursed for my time and ingredients. All opinions and words are my own. Thank you for supporting the brands that support me.