September is the time of year to get out and investigate the hedgerows. It's also the time of year to make some Damson Gin. There are all sorts of fruits and berries waiting to be picked by eager hands: sloes, rosehips, blackberries, damsons and apples can all be found with a little searching and bravery. I say bravery because foraging is always fraught with a small amount of danger, for instance, a wasp can easily be inhaled if you become distracted by a particularly juicy apple.
Making your own infused gin is always great fun; first there's the mixing, then there's the waiting and finally there's the tasting. Then there's always the great debate; what do I do with the leftover gin soaked fruit? Last year I came up with a few good ways to use up the excess and have other plans this year too. I decided to make damson gin this year rather than sloe gin as the sloes are a bit thin on the ground and I've not tried it with damsons before.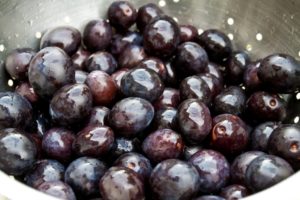 Foraging for food is immensely enjoyable not least because you're getting something for nothing. It allows you to connect with the land and fully appreciate where the food has come from giving you an excuse to be a bona fide Ray Mears. If you do go out to scrounge the shrubbery make sure you're meant to be there and haven't inadvertently strutted into someone's garden and started handling their hydrangeas. It goes (almost) without saying to be careful that what you are picking is indeed what you intended to pick and you haven't confused your rosehips and laurels.
If a day outside avoiding thorns, stinging nettles and falling down ditches doesn't appeal to you then farmers' markets and greengrocers may be able to provide some or all of your berry needs. They also make an excellent hunting ground for more unusual apple and pear varieties.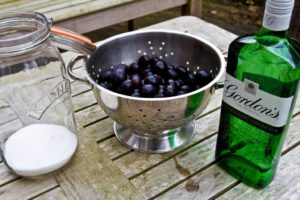 Top Tips
I like the gin I use to have a nice flavour so I don't use the cheapest gin, nor the most expensive.
You need to ensure that the damsons and gin can mix together effectively over time. You can achieve this either by putting the damsons in to the freezer so that the skins crack or you can prick each damson a few times with a pin. I chose the latter option this year and found it to be extremely satisfying; taking a far shorter time than I envisaged.
You can also try making
sloe gin
, it's best to wait to pick the sloes until after the first frost. I also have a recipe for
elderflower gin
which is normally best made in late spring. Another gin recipe to try (can you tell I like infusing gin?) is
quince gin
; it has such a fantastic flavour.
Rather than using gin you can try vodka too.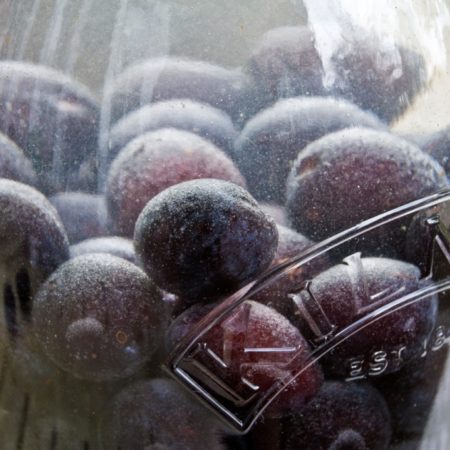 Damson Gin
Make your own damson gin by infusing the gin, fruit and sugar together.
Equipment
2 litre sterilised jar or lidded container
Ingredients
1

kg

damsons

see tips

250

g

caster sugar

1

litre

gin
Instructions
Clean out your chosen container and put the sugar in the bottom.

Add your prepared damsons then pour in the gin.

Give it a shake to mix the sugar in and then agitate it every day until all the sugar had dissolved.  Then just agitate it every so often leaving it for at least three months.

After three months it is worth giving it a taste to see how it's getting on. If it's how you like it, drain the gin off and see notes below.
Notes
Once you have drained off the gin y

ou can try adding more fresh gin and sugar to make another batch. Alternatively you can de-stone the damsons and use them for a pie or crumble.
Pin my Damson Gin recipe to try later!