I enjoy watching people make cocktails. Particularly when it's an impressive display of throwing ingredients together and seemingly defying gravity. It's all quite spectacular but is only worthwhile if the finished drink tastes half decent. I've always wanted to give it a go; behind a bar, cocktail umbrellas at the ready, knowing what it is I'm meant to be doing. It's not quite the same mixing it up in your own kitchen so when Lola Lo asked if I wanted to try one of their master classes I couldn't say no.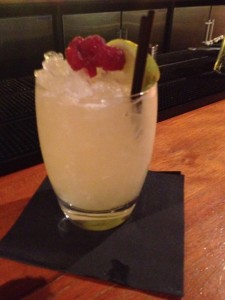 I must start by apologising for the photos; I was having too much of a good time (and had my cocktail goggles on) while I was there to think about it! I also have to tell you that our hosts Annie and John were wonderful; I arrived a little late and out of breath and they didn't mind at all. In fact I was presented with a glass of Champagne and a flower necklace to wear.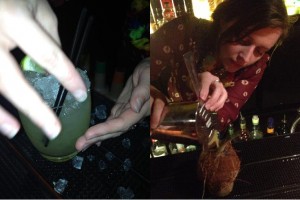 I wasn't quite sure what to expect from a cocktail class, I thought it would be mostly watching but actually it was really hands on. We set about making three cocktails. They were demonstrated by John first, we tasted it and then he watched us make our own versions. I was so surprised at what a difference a small amount of gomme or lime can make to the overall flavour of a cocktail. Just a dash too much gomme can transform the cocktail from balanced to overly sweet. At the same time, if your biceps aren't up to squeezing out enough lime juice the sourness can change astoundingly.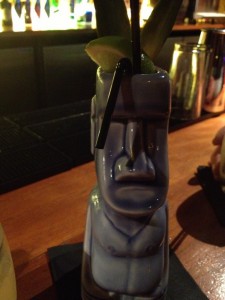 The first cocktail we made was a Mai Tai; a mix of rum, Cointreau, lime juice, almond syrup and gomme. The balance of sweet to sour was great in this and I was really surprised how much I enjoyed the almond flavour. The next cocktail (served in the blue figure) was a Moai; rum, Cointreau, lime, grenadine, Angostura bitters and ginger beer. Again I was really surprised by the mix of flavours as I don't normally like ginger beer but I really liked this mix. The last cocktail we made was the Captain Coconut; rum, coconut liqueur, passion fruit, lime, gomme, cream of coconut and peach liqueur. I loved this one because it was served in a frozen coconut! The tropical flavours were enhanced by the furry receptacle. All of the cocktails we made were ones I wouldn't normally order but after trying them I definitely would.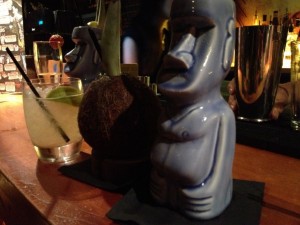 I was feeling very pleased with myself thus far. I hadn't spilt anything on myself (or anywhere else), everything I had made was delicious and I was a little bit tipsy. I thought it was all over and I was happy with what I'd learned, but no. Off we went around the corner and there was a table full of spirits, mixers, ice and all sorts for us to invent our own cocktails. I'm not a competitive person, unless food or cooking is involved.
I thought this was a great end to the evening; a chance to utilise all your acquired cocktail knowledge. Although when you've already had three cocktails your powers of concentration and reason are somewhat inhibited. We had to make one short cocktail and one long cocktail. My short cocktail was a mix of gin, apricot brandy, lime and grenadine. My long cocktail was a mix of rum, strawberry liqueur, lime and apple juice. The jury was out on who had won (I'm pretty sure it was me) but it was easier to keep the peace!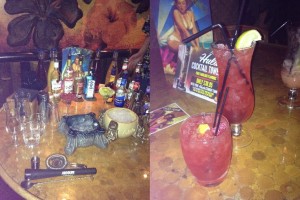 Now, I know I wasn't actually in Polynesia during the master class but I felt a million miles away from the hustle and bustle of the Oxford city streets above. I might come across as a bit ignorant now but I had no idea about the history of all cocktails. I thought they were a relatively recent thing but with this class not only do you learn how to make the cocktails but you learn the whole story behind them to. My particular favourite being the story of the Long Island Iced Tea (one of my preferred cocktails) which came about when clear spirits were mixed with cola and poured from a teapot during a period of prohibition. I really enjoyed the class and think it's a great idea for a party or if you want to get to know a bit more about mixing up drinks.
Thanks to Lola Lo for the master class. All opinions expressed are my own.