I'm not sure if you've ever been in the designated driver situation where you end up at a soiree and the host assumes that the only guests not drinking alcohol are children? As much as I like Um Bongo it's always a little embarrassing to reach the end of the carton and make that loud, conspicuous slurping noise while in the middle of a conversation. Down with this I say and hooray for the now bursting market that is adult soft drinks and cordials. I'm not sure why but all the ready-made 'adult' soft drinks available used to be either apple orientated or have grape juice in. I am really not a fan of grape juice; maybe because it tastes artificial to me and not at all like grapes. Not to worry though as this Rhubarb, Rosehip and Lime Fizz is a corker of a soft drink.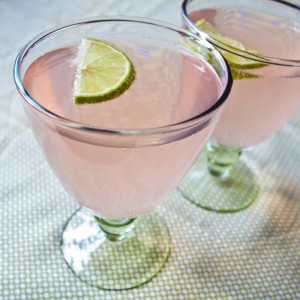 ingredients
You will need (per glass):

Method
Pour some of the Rhubarb and Rosehip cordial into a glass, however strong you like, then top up with some sparkling water.
Add a squeeze of fresh lime juice and top with a slice of lime.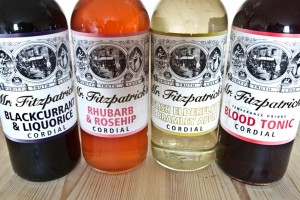 I think this drink looks particularly inviting; the pleasing pink colour and refreshing green lime make you want to take a sip. The astringent rhubarb goes so well with the slightly medicinal rosehip and the distinctive lime rounds it off perfectly. I hope the recent series of drink related posts has given you some inspiration and interesting ideas for combinations. I'm looking forward to a (hopefully) warm summer sipping on some more unusual beverages.
Thanks to Mr Fitzpatricks for the samples. All opinions expressed are my own.