I like to browse other people's blogs and I particularly like the posts where there has been some sort of link or challenge and lots of bloggers take part. I like to think of them as online coffee mornings. I thought it was about time I got involved and had a go at one; enter Dom from
Belleau Kitchen
and his challenge called 
Random Recipes
.
 I love the idea of opening a random cookery book and having to cook whatever is on the page that opens.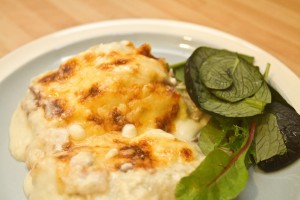 I know I'm guilty of flicking through all my recipe books and thinking how good the recipes sound but knowing full well it's pretty unlikely I'll ever give it a try because I'll either forget or not have the time. This challenge suited me because I was forced not to turn the page to find something quicker, easier or less expensive. I stuck to the rules and ended up opening Rick Stein's Spain to Canalons de ternera, cerdo, jamón y boletus or Veal, Pork, Serrano Ham and Porcini Cannelloni.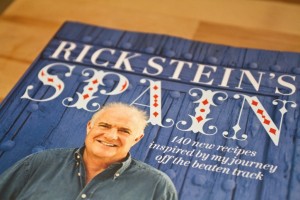 Ingredients
You will need (for 6-8):
25g dried porcini mushrooms

30g butter

1 medium onion, finely chopped

2 garlic cloves, finely chopped

225g minced veal or chicken

225g minced pork

100g Serrano ham, thinly sliced then blended in a food processor

25g plain flour

300ml full fat milk

1 tbsp fresh parsley, chopped

Nutmeg

16 lasagne sheets

100g Manchego cheese, grated

Salt and pepper





For the 

b

échamel

:

6 cloves

4 bay leaves

1.2 litres full fat milk

80g butter

80g plain flour
Method
Soak the mushrooms in boiling water for 30 minutes then drain and finely chop. Put the onion, cloves and bay leaves into a pan with the milk for the béchamel sauce and bring to the boil, remove from the heat and allow to cool.
For the filling fry the onion and garlic in the butter for about 10 minutes then add the porcini, veal (I used chicken) and pork. Fry for a few minutes before adding the Serrano ham. After a few more minutes add the flour, cook for one minute and then add the (300ml) milk. Bring to the boil then simmer for five minutes. Stir in the parsley, nutmeg and some salt and pepper.
Add the lasagne sheets to some boiling water for a few minutes then remove and lay them out so they don't stick together. Put a little of the filling onto each sheet and then roll up to form the canalons. Put these into a baking dish. Preheat the oven to 200C.
To make the béchamel melt the butter over a low heat and then add the flour. Cook for a minute before straining in the infused milk. Simmer the sauce until it is smooth and thick then pour over the canalons and cover it all with the Manchego. Bake for 30 minutes.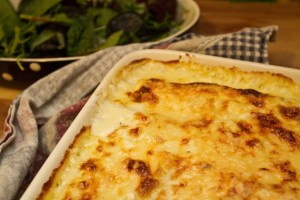 Initially when I looked at the ingredient list it put me off, however, it was well worth it if a little expensive. It was pretty simple to make the only issue I had was not being able to get minced veal; fortunately good old Rick said I could use minced chicken.
It can seem quite involved on the first reading but actually all you do is infuse some milk to then make a b
échamel,
fry some meats and onion together, stuff the cannelloni and then cover it with the 
b
échamel
 and grated Manchego. I did think there was a bit too much 
b
échamel
 sauce so if I made it again I'd probably only do about two thirds. Other than feeling a bit like dinner was swimming in glutinous sauce it was divine.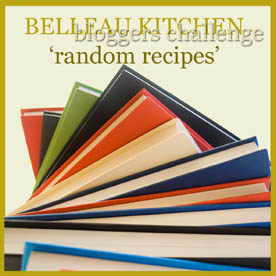 I can safely say that what may have appeared time consuming and with a long list of ingredients was actually a pleasure to make and was well worth the little extra effort and ingredient sourcing it took to make it.  I really enjoyed Rick Stein's Spain when it was on the television so it was a treat to make this. I really enjoyed the challenge, bring on the next one!