The Carnarvon Arms seems to have a bit of a reputation for being one of the best places to eat in the Newbury area. Are these rumours unfounded or based on exquisite experiences had by everyone who has been there? Before my most recent visit, I had been before and it was good. I wanted to try it again with a now more sophisticated, some might say picky, palate. 
We arrived with no booking on a week night, the staff behind the bar were lovely and friendly and we got a good table. 
Bread, oil and vinegar is a favourite of mine and I think the bread served can tell you a lot about a restaurant. This bread was a bit disappointing. The oil it came with was in what I can only assume is meant to be a 'fun' traffic light formation. It certainly wasn't there to serve any taste purpose. I think that restaurant bread can take two forms; the first a really fantastic example of simple bread or secondly a selection of more unusual or flavoured breads. We had boring brown and wearisome white. They weren't crusty, weren't warm and worst of all they were stale. When we informed our waiter of this he said, "OK".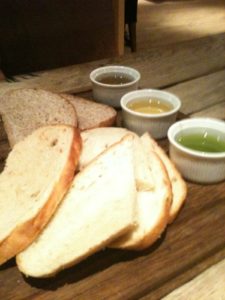 My starter was also one of my most loved flavour combinations; mozzarella, tomatoes and basil. You can't really go wrong although it was mighty hard to eat until the cutlery arrived.
For my main I opted for wild mushroom ragout with a deep fried duck egg. For a main course at £16 it was tiny. Yes wild mushrooms are expensive but bulk it out with something other than two wafer thin sheets of pasta. I did enjoy this; the mushrooms were in a wonderful  sauce, the egg was oozing perfectly and the pasta was extremely delicate. The sauce that you can see under the pasta at the bottom was indescribable. I mean really indescribable. I spent the whole time wondering what it was meant to be and I concluded that it was either celeriac or Jerusalem artichoke neither of which had retained any flavour. This course proved even trickier to get from plate to mouth without any cutlery.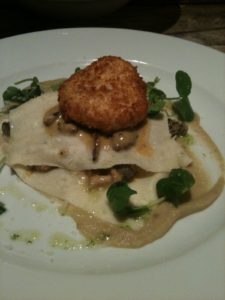 I cannot say no to salted caramel. The saltier the better and for dessert: Chocolate Marquise, Salted Caramel and Peanut Butter Parfait. I have to say that the salted caramel was the best I've ever had, it was perfect. The marquise was gooey and chocolatey and the parfait was good if a little too frozen. I thought there was going to be a comedy moment where I went to procure myself a sliver of parfait only for it to fly off the plate, ricochet of the window and hit me in the forehead. Fortunately, I was spared this embarrassment and consumed my dessert with gusto. Or, at least I tried to while I waited for the cutlery to turn up.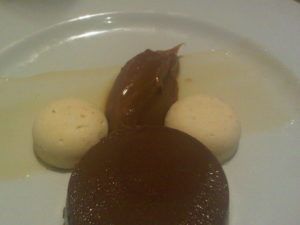 Overall I thought it was ok. It was just a bit same old same old, jump on the occasional bandwagon but don't do anything too exciting food. It's a real shame because I think the chefs have the potential and skill to be a bit daring. Pretty much every course was £2 to £5 more than I would have been happy to pay. It is a nice environment, you are not cramped and it's right next to Downton Abbey (Highclere Castle). For some reason unbeknown to me we never had cutlery at the correct time but other than that the staff were very nice. 
I ate here before it had been taken over by Marco Pierre White and I will be going back to see how things have changed; I'm expecting Knorr from it. Next time though I think I'll fashion my own cutlery using some pig iron conveniently concealed in my bag and the intense heat from my temper.