Pesto, hummus and bread are just a few examples of things that if you make yourself, couldn't be further from the shop bought version. Chicken liver pâté is another. I have long had an affection for this most accepted of offal and I felt it was about time I got myself some to see how a homemade one compares. I couldn't have asked for better livers. They were free range, organic and fresh as you could ask for. I never eat supermarket chicken and so the money I would have spent on that I spend on farmers' market chicken and just eat it less often.
This recipe took me about 10 minutes to make so if you find yourself with the opportunity to buy livers, do so.
Ingredients
For my pâté I used (for 2 small ramekins):
80g butter and some extra

200g chicken livers

1 very small onion

Thyme, a few leaves

Basil leaves (for aesthetic purposes)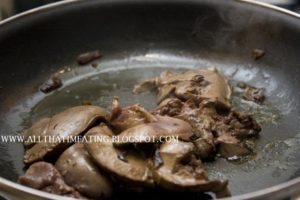 Method
Start by chopping your onion fine and frying it in a little butter. I swear all good meals start with this smell. Add the livers and a sprinkle of thyme and cook for 3-4 minutes until still pink in the middle.
When I cooked the livers I expected them to smell (I don't know why) but they didn't at all.
Put the pan contents into a food processor with the 80g butter – cubed – and blitz up. Spoon out into whatever receptacle or receptacles you deem fit.
Take a little more butter, heat until melted and then pour over the top. Put a little basil leaf on the top if you like.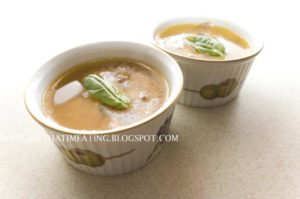 I have seen recipes suggesting to clarify the butter before putting it on top. I really don't think it's necessary and to be honest it's not worth the stress. Clarifying butter can be fraught with worriment.
I have to admit that by making this yourself if you fancy a little garlic or sherry thrown in there for a little pizazz then you can. You can decide if you want a coarse or toothpaste texture. Nor do you get obscure ingredients put in that surprise you like you'd just put a wet hand into an electric socket.
This might be a little old fashioned but I think it's a winner.